New Year, New You: Fashion Jewelry for the New Year
January 10th, 2018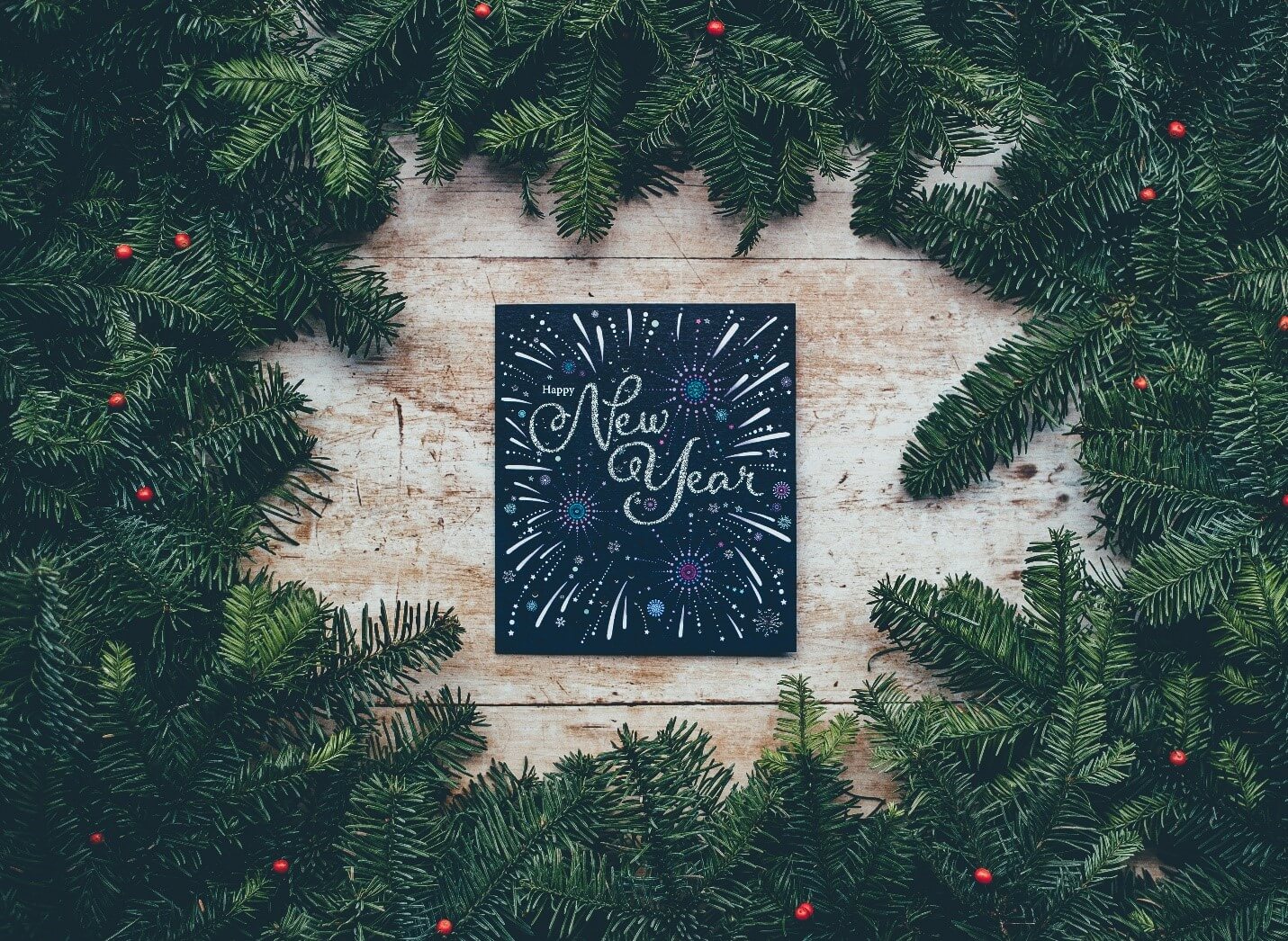 With 2018 just beginning, now is the perfect time to revamp your fashion jewelry collection with the latest in today's hottest designer pieces.
Always ahead of the fashion curve, our team of style experts is here to share a few of their favorite looks that are perfect for ringing in the new year and that can be found today at Albert's Diamond Jewelers.
2018 Fashion Jewelry Trend #1: Chic Smartwatches
Designed to make our lives a little easier, adding stylish and helpful smartwatches to your ensemble is a perfect way to bring a dash of high-tech sophistication to 2018. Great for the classic timepiece wearer, contemporary watchmakers are crafting smartwatches that avoid the bulky look that past smartwatches have had. Instead, today's smartwatches, such as the one pictured below from Michele, are polished and streamlined looks perfect for the modern fashionista.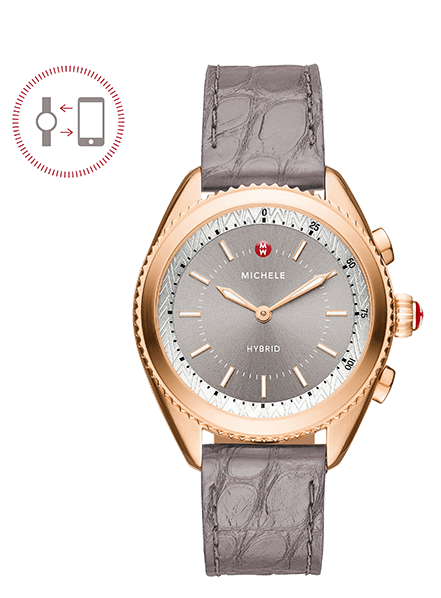 Our Pick: Michele Hybrid Smartwatch (MWWT32A00005)
Just in time for the new year, showroom favorite Michele has a brand-new collection of simple-to-use smartwatches for stylish tech-minded women.
Operated through the use of the free Michele Connected app, the watches of the Hybrid Smartwatch collection features user notifications, fitness tracking, music controls, and other customizable options for making everyday life easier. In addition to the technologically advanced functions of the Hybrid Smartwatch models, these Michele timepieces are made with luxurious alligator band, handsome face, and lovely rose gold shades.
2018 Fashion Jewelry Trend #2: Colorful Statement Necklace
Another great way to bring a bold "newness" to your 2018 wardrobe is to add a glamorous gemstone statement necklace to your everyday ensemble. At Albert's Diamond Jewelers we are proud to offer an exceptional selection of designer-made necklaces from Tacori, Marco Bicego, John Hardy, PANDORA, Le Vian, and others, all ideal for bringing a pop of gemstone pep to your new year.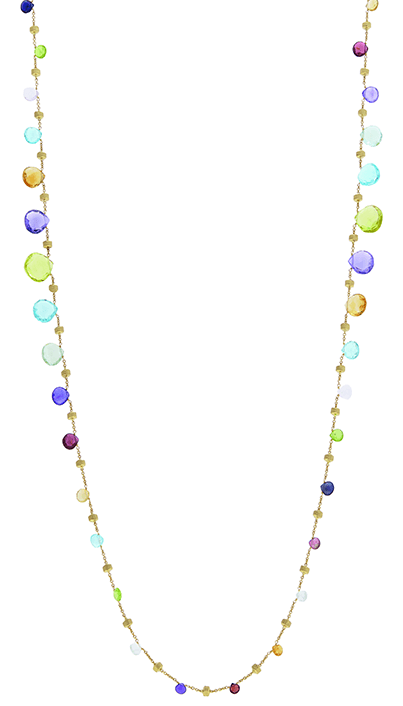 Our Pick: Marco Bicego Paradise Necklace (CB1871MIX01Y)
Taking gemstone glamour to the next level of extravagance, Italian designer Marco Bicego is the ideal go-to designer for unforgettable statement-making jewelry pieces. Masterfully designed, all of Marco Bicego's pieces are hand-crafted in their Northern Italy headquarters and are distinct from other jewelry designers due to their trademark "bulino" hand-carving that adds an exceptional brushed texture and elegant finish.
Not to be missed, from Marco Bicego comes this colorful necklace from the designer's popular Paradise collection. Made with 18-karat yellow gold and adorned with a remarkable assortment of delicate and dazzling gemstones, this necklace is sure to help the wearer make a grand entrance at any event.
2018 Fashion Jewelry Trend #3: Distinctive Gemstone Earrings
Keeping on trend with blasts of color, add some uniquely-shaped gemstone earrings to complete your "new year, new you" look. A must-have for any fashionable lady, gemstone earrings are a wonderful way to highlight the wearer's face and to bring an inspiring glow to the face of every wearer.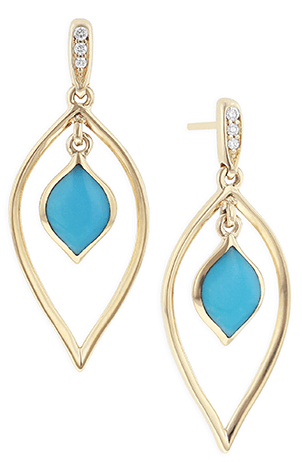 Our Pick: Kabana Petite Earrings (GECF473T)
Made in America and inspired by the designer's Greek home, Kabana jewelry pieces are unparalleled in craftsmanship, beauty, and graceful sophistication. A lovely combination of bright blue gemstone, diamonds, and 14-karat yellow gold, the Kabana earrings pictured above are a fresh, contemporary take on timeless drop earring styles.
From the Petite collection, at Albert's Diamond Jewelers we also offer Kabana gemstone earring collections that include their beautiful Classics, Rose, Riviera, Blush, and many others.
Shop Your New Looks at Albert's Diamond Jewelers!
If you enjoyed these trends, at Albert's Diamond Jewelers we are proud to carry an enormous inventory of the latest in fashion jewelry styles including big, bold, and bright new looks that you're to fall for in 2018.
In addition to the timepieces, necklaces, and earrings featured here, our Schererville and Merrillville showrooms are filled with fashion rings and bracelets sure to satisfy all tastes! Plus, for those guests who have an eye for original fashions, our comprehensive custom jewelry design service lets you be in control of your fashion-forward looks, so come and create with us!
For more information on our entire collection of fashion jewelry or customer services available, call 800.946.1491, visit AlbertsJewelers.com, or visit us in our Merrillville and Schererville, Indiana showrooms today!