Valentine's Day Gift Guide: A. Jaffe Designer Necklaces
February 1st, 2017
With Valentine's Day right around the corner, it's now the time to begin thinking about what to get for those special people that fill your everyday with happiness, love, and joy. Better than chocolates, flowers, or a romantic dinner, nothing says "I love you" quite like a brilliant, sophisticated, and fabulously-designed diamond and gold necklace.
Luckily, for those of you still looking for the ideal necklace for any loved one, Albert's Diamond Jewelers proudly offers a wonderful array of necklaces made by the master jewelry designers from the New York-based designers at A. Jaffe.
All more beautiful than the last, we've created a list of three of our favorite A. Jaffe pieces, that we know will delight and satisfy people of all ages and tastes, and all available today the Schererville location of Albert's Diamond Jewelers.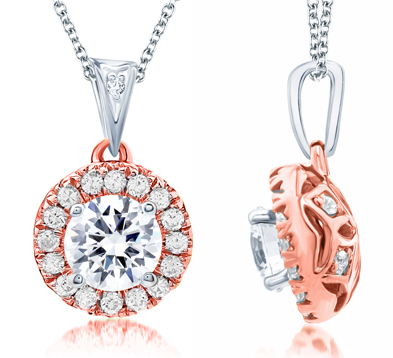 1. A. Jaffe "Center of My Universe" Pendant Necklace
To start, from the vintage-inspired A. Jaffe Art Deco necklace collection comes the "Center of My Universe" pendant necklace, shown below. This distinctive piece features a big and bright round brilliant center diamond that is beautifully surround by a series of small sparkling diamonds set in a confident halo-style setting.
Handcrafted by the skilled jewelry making artisans at A. Jaffe, this beautiful piece is constructed with high-quality 18-karat rose gold and 18-karat white gold, and effortlessly emits a sense of everlasting romance, grace, and next-level sophistication.
2. A. Jaffe "Tulip Motif" Solitaire Pendant
A part of A. Jaffe's delightful Seasons of Love collection, this subtle A. Jaffe "Tulip Motif" solitaire pendant necklace is ideal for those loved ones who are sure to appreciate the pieces' understated floral-inspired design and elegant gentle curves.
Classic and unassuming, the A. Jaffe's "Tulip Motif" pendant necklace features a luminous round center diamond, is made of high-quality 18-karat white gold, and confidently hangs on a fashionable cable chain.
3. Maps by A. Jaffe Personalized Pendant Necklace

The newest addition to the A. Jaffe fine jewelry family, the necklaces of the Maps by A. Jaffe collection are the definition of one-of-a-kind. A unique way to celebrate the moments that make life so special, these gold, pendant-style necklaces are custom-made to feature personalized engraving to commemorate the map of any location a customer chooses.
Beautiful in their own right, the necklaces of Maps by A. Jaffe are a beautiful reminder of places your love has been, as well as the places it is sure to lead you in the future.
Visit Albert's Diamond Jewelers Today for More A. Jaffe Designer Necklaces!
These three examples of the A. Jaffe necklaces available today at Albert's Diamond Jewelers just barely scratch the surface of what customers can find today in the beautiful Schererville Albert's Diamond Jewelers showrooms. In addition to A. Jaffe, the experienced team at Albert's also offers necklace from designers who include, Tacori, Alex and Ani, Pandora, Le Vian, Kabana, as well as others, and are committed to doing everything they can to assist in finding the perfect fine jewelry gift for everyone on your Valentine's Day list.