Oval and Pear Diamond Engagement Ring Trends
September 13th, 2017
Known for being timeless, elegant, and truly unforgettable, today's brides are rediscovering the incredible beauty of oval and pear shaped diamond engagement rings. Vintage-inspired but never old-fashioned, pear and oval cut diamonds are the perfect choice for a bride who wants something more unique than your typical princess or round diamond rings.
For couples searching for the perfect designer pear diamond engagement ring, the bridal experts at Albert's Diamond Jewelers are here to help!
As an authorized retailer of legendary bridal designers such as A. Jaffe, and Verragio, along with of the region's largest selections of GIA-certified loose diamonds, Albert's Diamond Jewelers is thrilled to share an amazing selection of pear and oval diamond engagement rings that are sure to satisfy every bride.
To help ring-seekers narrow down the best ring for their beautiful bride-to-be, here are some of our favorite pear and oval shaped engagement rings available today in the Schererville and Merrillville showrooms of Albert's Diamond Jewelers.
1. Pear Cut Diamond Engagement Rings
Resembling a mixture of a marquise and round-brilliant stone, pear shaped diamond rings are quickly becoming one of the most popular choices amongst fashion-conscious brides.
Evoking a sense of timeless sophistication, today's brides love the way that pear cut diamonds appear to lengthen the wearer's finger and how they offer larger coverage than other diamond shapes, two factors which come together to create a ring of unparalleled beauty and elegance.
Pear Ring Pick: A. Jaffe Seasons of Love Engagement Ring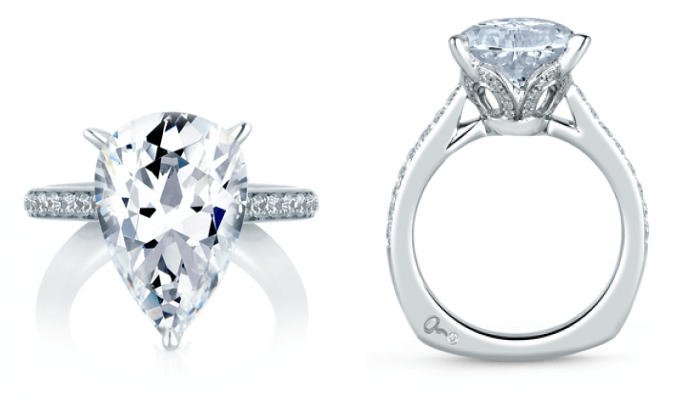 With over 100 years of jewelry making experience, the artisans of A. Jaffe are skilled at creating engagement rings and bridal jewelry of exceptional quality, comfort, and style. From A. Jaffe's Seasons of Love collection, this ring (model #MES419-337) features a bold solitaire pear shaped diamond set in a secure prong-style setting. Simple yet extraordinary, this A. Jaffe pieces is perfect for the bride-to-be who wants a ring that is modernly-designed and vintage-inspired.
2. Oval Cut Diamond Engagement Rings
Another bridal jewelry trend that we're seeing often in the showrooms of Albert's Diamond Jewelers, are engagement rings which are beautifully adorned with glamourous and gleaming oval shaped diamonds.
Similar to pear shaped stones, oval cut diamond engagement rings are renowned for their exceptional brilliance, versatility, and look fabulous in three stone, halo, solitaire, and pretty much all other ring styles. Further, because oval diamonds appear larger than they really are, it is simple to find a ring of extraordinary shine without breaking the bank.
Oval Ring Pick #1: Verragio Couture Engagement Ring
One of our absolute favorite oval cut diamond engagement rings is this fully-customizable piece from Verragio. Available in a multitude of rose gold, yellow gold, white gold, and platinum combinations, this oval cut ring (model #0426OV-TT) features a bold round diamond halo, as well as Verragio's trademark milgrain embellishments.
In addition to its fashion-forward design, this Verragio ring from the Couture collection is created through the confident combination of tried-and-true European approaches and modern design methods, ensuring that every Verragio oval diamond ring will remain beautiful for generations to come.
Visit Albert's Diamond Jewelers Today for more Engagement Ring Fashions!
These are only a few of the amazing pear and oval diamond engagement rings available now at Albert's Diamond Jewelers. In addition to the pieces pictured above, the friendly and knowledgeable staff at Albert's Diamond Jewelers proudly offers engagement rings from other designers including Christopher Designs along with comprehensive on-site custom engagement ring services.
For information on the products seen here, or to learn more about the diamond engagement ring selections available, please call 1-800-946-1491, visit AlbertsJewelers.com, or stop by the Schererville or Merrillville locations of Albert's Diamond Jewelers today!