Fall For Rose Gold Engagement Rings
August 2nd, 2017
This summer season, choose rose gold as your precious metal of choice for your upcoming engagement. At Albert's Diamond Jewelers, we know that captivating, bright colors rule for summer. Typically, this means bold fine jewelry, but through our many years of dedicated bridal jewelry service, we've found many fashion rules are meant to be tested and rose gold engagement rings are quickly becoming a summer color favorite.
For the stylish brides-to-be, consider rose gold as your metal of choice. There are several reasons why we think our rose gold options would suit our Indiana customers.
Top Reasons to Buy Rose Gold
1. Flattering: Due to rose gold's soft blush color, the rings set themselves apart as the rare metal that looks beautiful on all skin tones.
2. Affordability: Rose gold is in a unique spot. Known to be more affordable than platinum, it becomes a reasonable option for couples who want to shop today's hottest styles at moderate prices.
3. Durability: Because most rose gold rings do not have rhodium plating, they are more durable than some of their precious metal counterparts.
4. Distinct: Stand out in rose gold! Slightly underrated, since white and yellow golds are still a more common option, brides in rose gold will stand out among their peers.
5. Beauty: The rose gold engagement ring's beauty is undeniable. Reminiscent of roses, love, and all the other affection symbols, rose golds engagement rings are the option not just for the summer season, but for all other seasons to come.
Albert's Diamond Jewelers' Top Rose Gold Picks
Top Pick #1: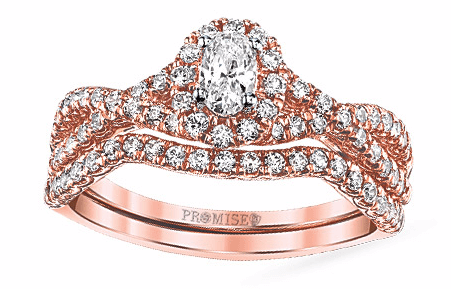 First, from our own collection, Albert's Collection, we have the exceptionally beautiful Engagement Ring 3167110874P-LSP. The glamour in this ring pick is the multiple pave bands and halo setting. In addition to its delicate rose gold shade, this pick includes a pear cut center stone, making it a standout piece.
Top Pick #2: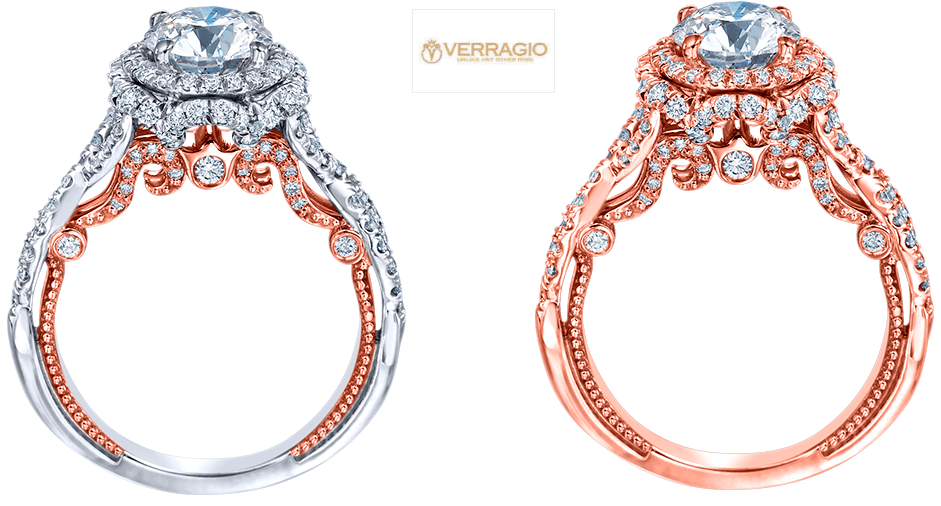 Last, but certainly not least, our rose gold pick goes to Verragio's Insignia. Showcasing Verragio's iconic vintage designs, the unique bit about this beauty is the customization option. For those who love the look, but are afraid of going full rose gold, Verragio allows for inner band/outer band customization. Couples can really make their engagement rings special with additional customization combinations including yellow gold and white gold options.
These are just some of the few rose gold options we love. Further engagement ring designer names we carry include A. Jaffe, Henri Daussi, and Christopher Designs.
Shop Rose Gold Wonders at Albert's Diamond Jewelers!
Have you fallen madly in love with our rose gold options? Come browse the blush colored collections with us. Call us at 800.946.1491 to set up an appointment with one of our jewelry specialists, or visit us in store at either of our conveniently located showrooms in Schererville, and Merrillville, Indiana. Our jewelry specialists look forward to meeting you!