MS auction raises more than $100K to battle disease
October 5th, 2014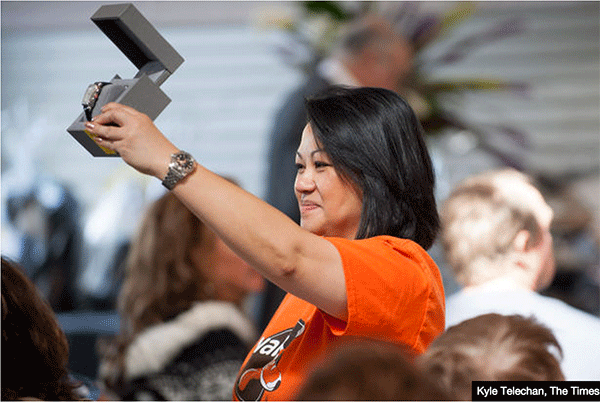 October 05, 2014 10:30 pm '€¢ LU ANN FRANKLIN Times Correspondent HAMMOND | Going, going, gone!
Someday, that will be said of multiple sclerosis if the Halpern family has anything to say about it.
Fred and Josh Halpern, owners of Albert's Diamond Jewele's in Schererville and Southlake Mall, encouraged the hundreds of guests attending Albert's 11th Annual MS Auction to bid on 475 items during the live and silent auctions held Sunday at the South Shore Convention & Visitors Authority Indiana Welcome Center.
Raffles and 50/50 drawings helped up the ante. Guests also nibbled on free food and beverages provided by Jalapeno's Restaurant of Schererville and candy from Merrillville's Albanese Confectioners Group.
When the last bid was tallied, the 2014 auction raised $181,000, 100 percent of which will be donated to the National Multiple Sclerosis Society to find a cure, said Josh Halpern. That's $51,000 more than last year's record total of $130,000, he said.
Albert's MS Auction grew out of a personal crusade against multiple sclerosis, a chronic, often disabling disease that attacks the central nervous system. Donna Halpern, Fred's wife and Josh's mother, was diagnosed with MS in her late 20's. During the last 36 years, the 67-year old Halpern matriarch has undergone numerous treatments to keep the disease's effects at bay.
After a fall, Donna Halpern now stays mobile in a wheelchair.
"This means so much to me," she said during her attendance at the auction.
"We've made some changes this year. There are more items, more valuable items including everything from memorabilia to trips," said Josh Halpern as guests arrived for the noon preview.
"There are more endorsements, extra sponsors. We couldn't do this without the generous support of the community," he said.
Those new changes also included the use of technology for items offered in the silent auction. AuctionsByCellular.com of Valparaiso ran the silent auction via guests' smartphones. When guests arrived for the auction, they registered their cell phone number with ABC staff members.
Using that technology, guests could bid on items or donate money for the cause.
"You receive a text message if you've been outbid," Josh Halpern said. "It's a seamless checkout. You hit checkout and pick up your item."
Karin Moore of Chicago said she, her daughter and mother "stumbling on the auction. We were waiting for a table at the restaurant next door and saw people with the orange T-shirts."
The family was celebrating Syndey Nickles' ninth birthday. Clutching her American Girl doll, Nickles shyly looked at the hundreds of baskets and other items.
Also new to the auction, Keith Zylo of Lowell and Michelle Dancer of Hammond said they came to look.
"We're interested in everything," Zylo said. "It's for a good cause. We waste our money on so many things we don't need."
Martin and Noreen Plisky of Schererville have attended every Albert's MS Auction.
"We've been lifelong customers of Albert's and have purchase many pieces of jewelry," said Noreen Plisky. "We're looking at a pendulum clock and a couple of watches."
Even before the live auction started, Josh Halpern announced donations of more than $20,000.
Once the bidding started, auctioneer Randy DeWees of Rensselaer's Best Bid Auction Services LLC kept things lively.
"It's only money. You can earn more tomorrow," DeWees quipped to keep the action going on a diamond necklace.
Second time auction attendee, Janis Flutka of Crown Point took home that diamond necklace.
"I'm here shopping for Christmas gifts," said Flutka. "I kill two birds with one stone."

Article Link:
http://www.nwitimes.com/news/local/lake/hammond/ms-auction-raises-more-than-k-to-battle-disease/article_93b64416-25a5-541a-abba-24e6cef1f9e5.html