Albert's Raises Over $240K at MS Auction
October 2nd, 2017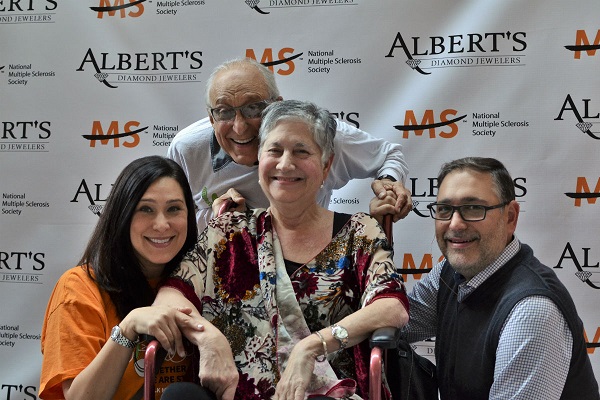 Written By: Dan Petreikis - NWI Indiana Life
The W. F. Wellman Exhibit Hall at the Indiana Welcome Center was filled with warmth and enthusiasm as hundreds of people filled the room Sunday afternoon for the 14th Annual Albert's MS Auction which saw over $240,000 raised.
The cause is a very personal one for the owners of Albert's, since Donna Halpern, wife of founder Fred Halpern, was diagnosed with MS nearly forty years ago. Multiple Sclerosis is a chronic, often progressive, disabling, debilitating disease that attacks the central nervous system. At the onset, symptoms may be mild, such as numbness in the limbs, and later progress to severe, such as paralysis or loss of vision.
For Nicole Stockton, Appraiser for Albert's Diamond Jewelers, it was her first year helping to organize the event.
"This is our biggest event by far, and it does so much to raise awareness for MS," said Stockton, "We have over 350 auction items - both live and silent, and we're hoping to see over 500 people bidding. We couldn't have done this without the help of the community. So many people have reached out to us with donations. It's amazing!"
Albert's MS Auction has become a beloved staple of the region and has raised well over $1.3 for MS research since its inception. Last year's event alone raised over $193,000, with 100% of every dollar raised at the auction going directly to benefit MS research. All event and promotional expenses are covered by Albert's, their friends, volunteers, and partners. In recognition to their dedication to the cause of helping those with MS, as well as those who may be diagnosed in the future, Albert's has been inducted into the National MS Society's Circle of Distinction.
"This has always been dear to our hearts," said Josh Halpern, President of Albert's Diamond Jewelers. "Though Albert's had always been involved with giving to causes, once my mother was diagnosed with MS, it became personal. That's when our family made the decision to make this our goal. We need to find a cure for MS, for those suffering from the disease and for those who will be diagnosed in the future. We want to make their lives better, we're doing it to help others."
Halpern wanted to recognize the help and support of all of the local businesses and individuals who helped to make the event a success.
"Thanks to Speros Batistatos, my good friend who runs the Visitor Center here… he donated this space, all the audio/visual gear, his staff. Batistatos and my friend Ari Weichman who donated the food, the Pietrzak family, owners of Lithographic Communications for donating all the printing and mailings and for sponsoring the bar here today. Big thanks also to Tito's Vodka for not only donating their fine vodka, but also for donating $5,000 to our cause. Golden Technologies, Centier Bank, Schepel... It's because of the help and support of all those people and many more that we are able to hold this event here today."
"We're looking forward to writing a big old check to MS research here today," said Halpern.
Speros Batistatos, President and CEO of the South Shore Convention and Visitor Authority, feels that the event is a perfect fit for both organizations.
"The first time we did the event with Albert's, it fit perfectly into our schedule here at the Visitors Center. Once we saw how many people who came here to help raise money, and the fact that every penny goes directly to that cause and the commitment from other businesses in the community, it just seems like the right thing to do, and working with the Halperns is great. They are truly pillars of the community and we're proud and happy to be able to once again help them," said Batistatos.
Standing tall among the hundreds of visitors was Josh Halpern's 5-year-old daughter Tory, who made a donation of $239 - money she raised by selling lemonade at her stand over the summer. It was an impressive donation coming from such a young girl, made even more impactful by a round of a half-dozen matching donations from the crowd, which combined to make a total donation of $1,673.
Attending the event were Ana Lark Stark, Director of Development for the Indiana chapter of the National Multiple Sclerosis Society and Laura Milewski, Director of Individual Giving from the Chicago chapter of National MS Society.
"We are very proud and honored to be here," said Stark. "The contributions raised here today will be directed towards research. The National MS Society is the largest MS research organization in the world, with roughly $42m in research in 2015 alone, so the contributions from Albert's over the years have been a huge benefit towards that cost."
Stark nodded in agreement and emphasized the importance of communities coming together to raise awareness of diseases like MS.
"It all starts with awareness, and the Albert's family are integral to the Northwest Indiana community. They have been a catalyst in raising awareness for MS, and that's where it all begins."
Click here to view this article on http://www.nwindianalife.com/