Albert's Crushes Last Year's MS Auction Totals
October 8th, 2019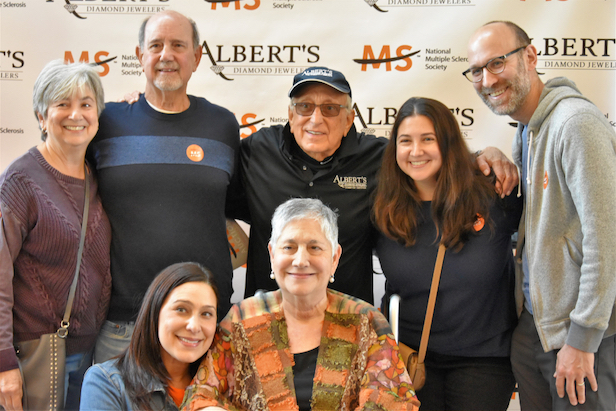 Written By: Gena Demuth
The Albert's team wanted to beat their personal record, for a very personal reason. Donna Halpern, Fred's wife, has battled MS for much of her adult life.
Multiple Sclerosis (MS) is a disease that triggers the body's immune system to attack the protective lining of nerve fibers called myelin, as well as the nerve fibers themselves. This disrupts the flow of information from the central nervous system to the rest of the body. Think of it as an exposed wire short-circuiting.
The cause is unknown, and the degree of symptoms varies. According to the National MS Society, most people are diagnosed between the ages of 20 and 50, and women are two to three times more likely to develop the disease.
Donna first noticed it 40 years ago when she started losing vision in one eye. She went to see an optometrist, but it was not diagnosed until a few years later as her symptoms progressed.
Amanda Worley and Nicole Diaz at Albert's Diamond Jewelers led this year's event.
"It means the world to me that we can support such an amazing cause," Diaz said. "The community support has been tremendous. It gives me goosebumps just thinking about it. We wouldn't be here if it wasn't for them."
More than 300 items were up for bid through live and silent auction. The items flew as bidders in-person and online made their donations. In attendance this year were many special guests including the president and staff of the National MS society to personally show appreciation to Albert's Diamond Jewelers and the community.
"We started this because my mother has MS," said Josh Halpern. "Initially, it was in the hopes of finding a cure so that my mom might be cured one day. We have come to the realization that it's not likely going to happen for her, but we keep fundraising in her honor and to hopefully find a cure for those with MS in the future," he said.
Helen Garrison takes pride in how much the event has grown. Garrison is a 17-year employee of Albert's Diamond Jewelers and has volunteered at the event since the beginning.
"I think the first event raised $16,000, and it started in the jewelry store. Since then, we have had to move here to the Indiana Welcome Center," she said.
While Fred and his son started the event, the Albert's staff and the community at large provide the passion and love to help keep it going.
Barb Stockton, Diaz's mother, first attended as a participant but came on as a volunteer this year.
"Many of us know someone suffering from MS. We have all come together as a team, and I'm talking employees, volunteers, family, and friends, to support one thing, and that's to find a cure for MS," Stockton said. "We don't know if that will happen for Donna, but we will continue to fight. We have friends who were just diagnosed within the last year, so showing them what we are doing is a big thing."
Chris and Bobbie Kissinger have been attending the event for the past eight years. To them, it's a way to give back and show support to a special family.
"Whether or not we have the same last name, we are all family in this," Chris said.
Josh Halpern expressed appreciation for the event's many supporters.
"I have lofty goals for what we would like to achieve today, but I am just so grateful for the generosity of our sponsors," Josh said. "Everything you see here has been paid for with even more left over to put towards the MS funds. We have incredible people donating, and our team has put a tremendous amount of work into this."
Fundraising like this has helped the National MS society make advancements in the treatment of MS.
"When my mom was first diagnosed there was probably only one medication," Josh said. "Now there are dozens. It was really in the last 15 years or so with the creation of the National MS Society that the push to find a cure started."
Two years ago, the Albert's Diamond Jeweler's team decided that 50 percent of the proceeds would start going to the society's National MS Navigator program. The program helps those locally with MS receive assistance with medications, medical equipment, home nurse services, wheelchair ramps, or other needs.
"We are asking people if you are living with MS, have family or friends with MS, to contact your local Indiana chapter of the National MS Society, because the money is used locally," Josh said.
To learn more about Albert's Diamond Jeweler's work with the National MS Society, or to get involved in next year's event, visit their website at https://albertsjewelers.com/, or call the store at 219-322-2700. To learn more about the local chapter of the National MS Society, visit https://www.nationalmssociety.org/Chapters/INI.
Click here to view this article on https://nwi.life/