Winter Wedding Jewelry Trends
December 6th, 2017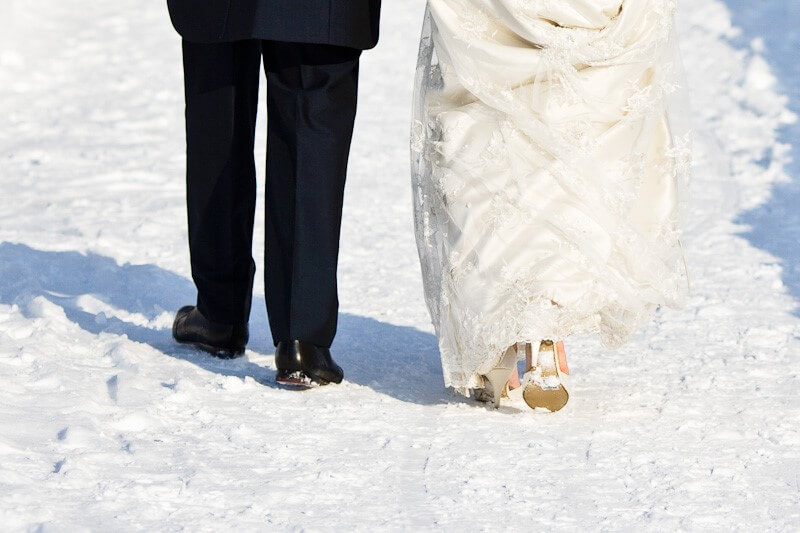 While every season has its advantages to create the scene for a perfect wedding setting, one of the most romantic and ethereal seasons for weddings is winter. While not as popular as summer, winter weddings can be just as glamorous, stunning, and more memorable than other seasons.
Eager to help our guests celebrate their most special moments, we have prepared a list of reasons why winter weddings are a great way for couples to display their love and added several fine jewelry items that complement the season.
Advantages of a Winter Wedding
1. Less Stress: Since we already know what to expect from winters in Indiana, there is no additional worry about a sudden change in the elements. Not only does this ease some potential stress on the bride, but it lowers the risk of mishaps with vendors, and trouble with guests and family trying to make it to the wedding from out of town.
2. More Affordable: Couples looking to save a few extra bucks for the happy lifetime ahead should consider winter weddings because they tend to be less pricey. Considered an off season for weddings, you are likely to find better vendor rates and a bigger selection of venue dates during this time.
3. Cozy Décor: Winter enthusiasts can enjoy the lovely décor that becomes necessary with the chilly season. Wedding guests can cozy up beside glamorous fireplaces, romantic candles, or an array of dreamy dimmed lights. There is no end to the enchanting fairy tale decorations that are inspired from winter wonderland weddings.
4. Works with Any Color Palate: With the blank canvas of fresh fallen snow, or an overcast day, any color palate pops and looks amazing during this season. The crisp, clean colors of winter work well with any chosen bridal color scheme, plus the season tends to inspire a whole array of standout bridal themes such as winter wonderland, fairy tale, and many others!
5. Atypical: Dreamy, ethereal, and idyllic, winter weddings are like no other. Break from the ordinary and go for a bolder, different type of wedding you and your guests will remember for a lifetime to come.
Fine Jewelry Perfect for Your Winter Wedding
After choosing wintertime as the setting for your big day, our bridal experts know just the fine jewelry to select from to complement your bridal look. An authorized retailer of such big names including Tacori, A. Jaffe, Henri Daussi, Le Vian, and others, the items in our galleries are 100% genuine, captivating designer pieces.
Winter Wedding Jewelry Pick #1: A Hint of Blue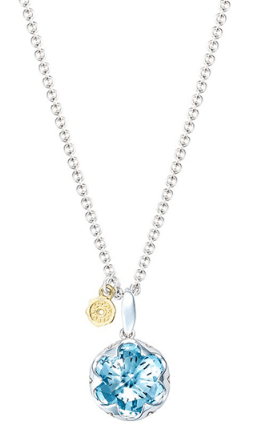 One of the most timeless looks for a winter wedding is fine jewelry pieces with just a bit of that icy blue shade. From the California-based designers at Tacori, comes their awe-inspiring Sonoma Skies necklace (model #SN19902).
Crafted from sterling silver (925), this gemstone pendant features a lovely round cut topaz stone on a single strand. Simple, yet elegant in design, this necklace is the perfect size and shape to subtly standout among the white surroundings of your wedding.
Winter Wedding Pick #2: Diamond Stud Earrings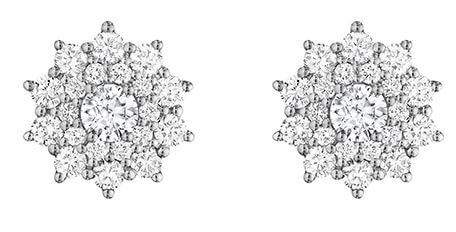 For winter weddings, you can never go wrong with glittering white diamonds. Diamond earrings are a great way to enhance the clear look of the winter landscape and romanticize the fairy tale wonderland.
Snowflake-like, try these lovely earrings from Henri Daussi (model #FS1). Covered in an array of the most beautiful, top-quality white diamonds, these stunners are sure to impress at a winter wedding.
Winter Wedding Pick #3: Delicate Diamond Bracelet
Since the winter scene is a grand statement onto itself, winter weddings are complemented best by delicate, fine jewelry pieces such as Tacori's The Ivy Lane bracelet (model # SB206-S).
Crafted from genuine silver, this cuff bracelet provides just the right amount of sparkle and brilliance to the setting. Plus, demure jewelry helps bring out the natural beauty of the bride, emphasize the setting, and create an understated sort of elegance to the wedding.
Plan Your Winter Wedding with Us!
With over a century of dedicated service to our Chicagoland area customers, our bridal experts are always happy to assist brides-to-be in finding stunning bridal jewelry no matter the season. In addition to the most glittering assortment of earrings, necklaces, bracelets, and fashion rings, at Albert's, we are thrilled to extend engagement rings and wedding bands sure to please brides of all tastes.
Among the designers available in our Indiana showrooms, we are proud to carry A. Jaffe, Henri Daussi, Verragio, Le Vian, Pandora, among others, and are honored to be the area's choice Tacori Gold Dealer.
For more information on our entire collection of fine jewelry items, call 800.946.1491, visit AlbertsJewelers.com, or visit either our Merrillville or Schererville showrooms today!