Shape of the Month: Oval Cut Engagement Rings
March 7th, 2018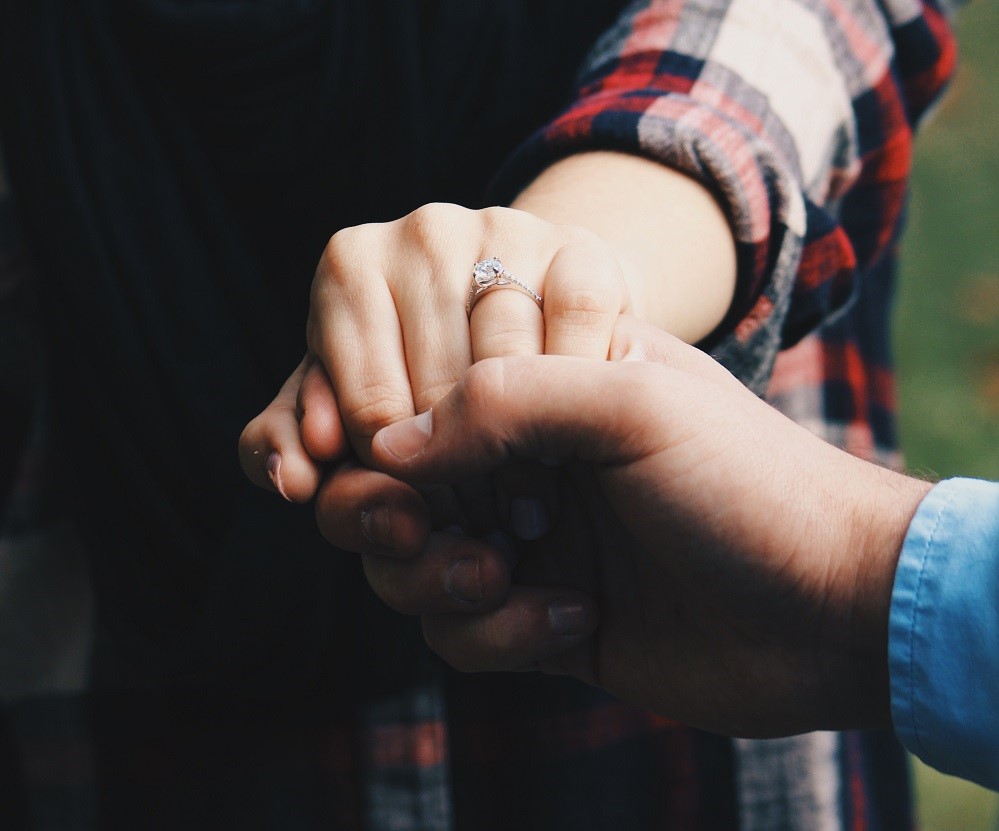 Understated, yet endlessly enchanting, oval cut stones are extremely popular among celebrities and fashionistas as a top choice for diamond engagement rings.
Immediately recognizable for their elongated circular shape and multi-faceted sparkle, oval cut diamonds are exceptionally versatile and are able be adorn rings of many different stylish looks that include three stone, halo, solitaire, and more!
This month, we explore the fabulous oval cut diamond and share with you some of our top designer-made engagement ring picks that are available today in the Schererville and Merrillville showrooms of Albert's Diamond Jewelers.
Oval Cut Pick #1: A. Jaffe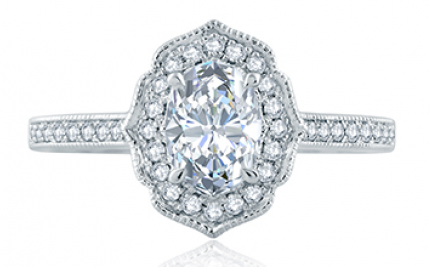 [A. Jaffe Seasons of Love ME2194Q]
Get your love off to a great start with a stand-out piece like this Seasons of Love engagement ring from A. Jaffe. Beautifully featuring an oval cut center diamond, a one-of-a-kind halo design, and a half-eternity set diamonds, this ring is a fine example of the oval cut diamond's ability to appear bigger than normal.
Because of their elongated figure, oval shaped diamonds seem larger than the diamond's actual size, which can make a bride's finger appear slenderer and also mean more bang for your oval diamond buck.
Oval Cut Pick #2: Verragio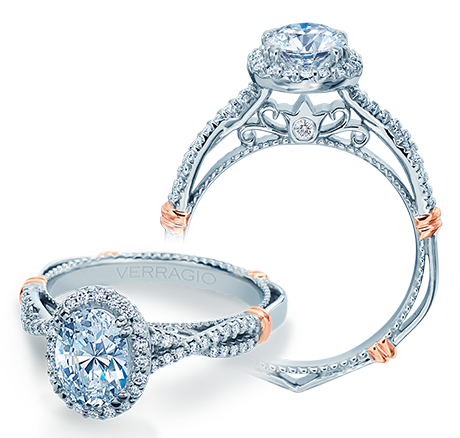 [Verragio Engagement Ring Parisian-1520V]
Another great point in favor of oval cut stones is that since oval cut diamonds have no sharp corners, they are less likely to chip, break, or get caught during everyday wear. For brides on-the-go, this elegant endurance makes is simpler to maintain their special look and lifetime luster.
Brides searching for a ring "unlike any other" will find their just what they're looking for from the extensive selection of Verragio engagement rings available at Albert's Diamond Jewelers. Built with Verragio's signature French lacework and beading, these rings are available in white, rose, and yellow golds, making them great picks for brides eager to customize their dream engagement ring.
Oval Cut Pick #3: TACORI

[TACORI Simply TACORI Engagement Ring 2654OV7X5Y]
Built using similar techniques as round cut stones, oval cut diamonds have an equally as stunning brilliance and diamond fire other shape but allow for a more unique and uncommon bridal look.
To really highlight the beauty and gleam of an oval cut diamond, Albert's Diamond Jewelers is proud to present this stunning piece by the innovators at TACORI. Another great example of the oval cut diamond's versatility and bridal functionality, the rings of the Simply TACORI collection include distinctive takes on classic engagement ring design '€" such as the "East West" style model pictured above.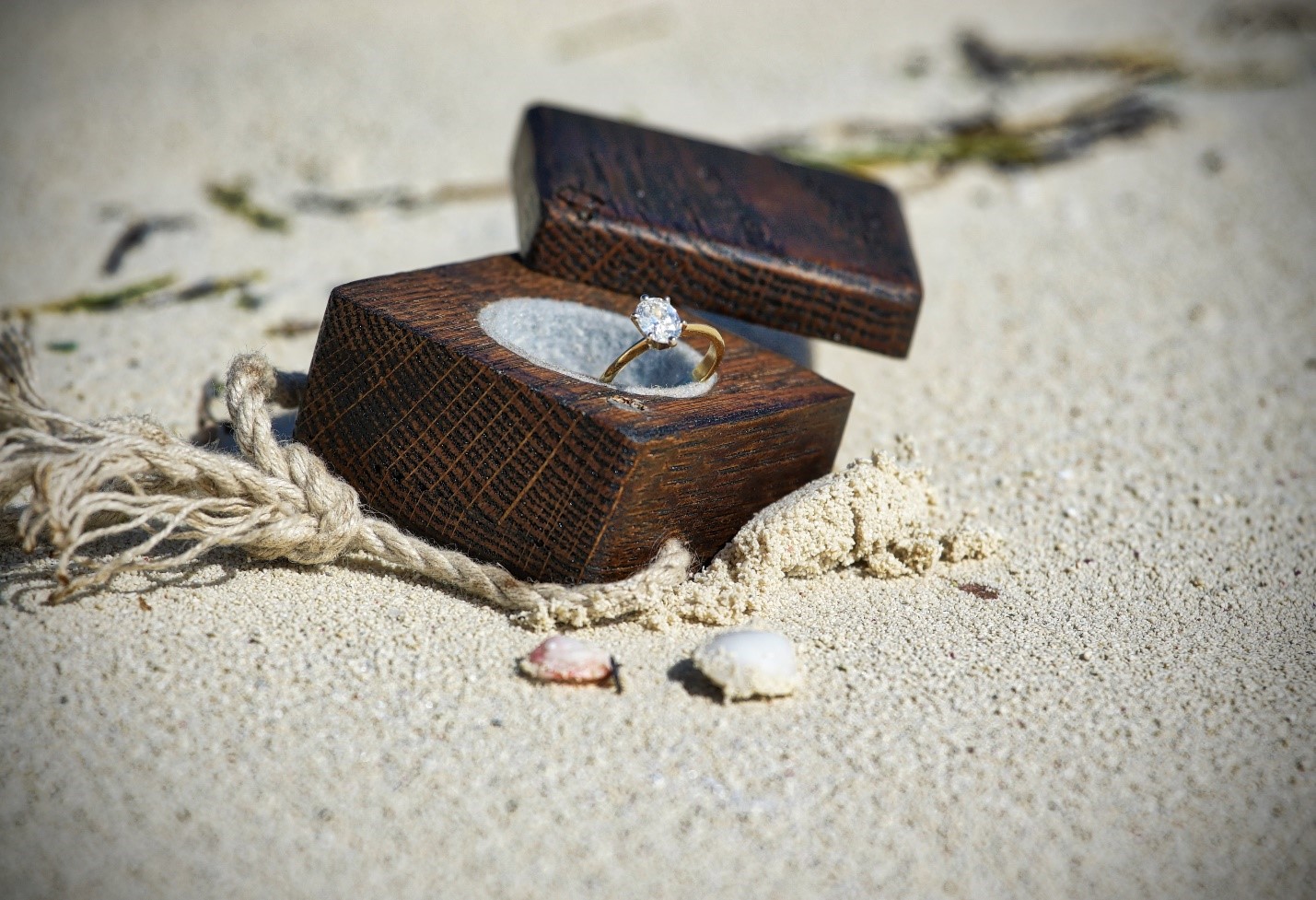 Shop Oval Cut Engagement Rings at Albert's Diamond Jewelers!
If you have fallen in love with oval cut diamonds or the above featured designers, then the full collection of available engagement rings at Albert's Diamond Jewelers will undoubtedly impress you as well.
Honored to bring you the latest and most phenomenal assortment of diamond-covered beauties, not only are we authorized retailers of TACORI, A. Jaffe, and Verragio, but at Albert's Diamond Jewelers sophisticated brides can also browse engagement rings from Christopher Designs, Henri Daussi, and Gabriel New York.
Further, if you and your bride has a unique vision for her engagement ring, our jewelry specialists would be more than happy to sit with you and discuss all the possibilities with our custom design services. More than just your average jewelry retailer, at Albert's Diamond Jewelers our goal is to make your shopping experience an enjoyable one.
For more information on our full line of engagement rings browse AlbertsJewelers.com, call us at 800.946.1491, or visit us in-person at either our Merrillville or Schererville showrooms. Visit us today!