How to Choose a Wedding Band that Complements Your Engagement Ring
November 14th, 2018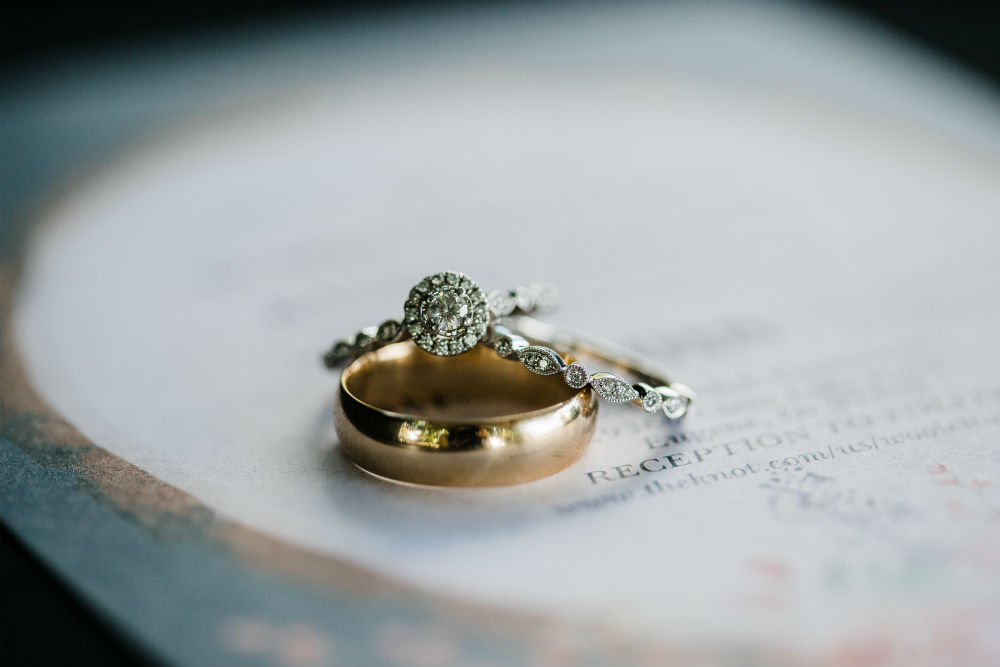 So, your wedding day is on the horizon. While you may be anticipating the flowers, what your dress will look like, or how the venue will look, the centerpiece to any wedding is the wedding band and the engagement ring.
When the day finally arrives, and it's time to add another ring to your finger, you'll want to find the best wedding band for your engagement ring. A wedding band should match seamlessly with your engagement ring and can be worn throughout the duration of your marriage.
Finding the best wedding band for your engagement ring can be a bit of an intimidating task when you take it on alone. Fortunately, our stylists here at Albert's Diamond Jewelers are here to help.
How to Match Your Wedding Band and Engagement Ring Flawlessly
Matching your wedding band and engagement ring can seem like quite a challenge. That said, you can make things easier on yourself by paying attention to three things: the kind of metal used, the setting of the diamond or stone, and the style.
For example, if you're currently sporting an engagement ring with a rose gold band, and a round-cut diamond with a prong setting, you might want to opt for a wedding band that uses the same metal and diamond shapes.
At the end of the day, finding the best wedding band for your engagement ring all comes down to personal taste and lifestyle. If you work with your hands a lot, a wedding band that has a large round prong-set diamond might not be the best option.
Alternatively, you might want something sturdier that can handle the day-to-day wear and tear.
Wedding bands are supposed to be worn throughout the remainder of your lives, so you should choose something that can not only stand the test of time, but something that you can continue to love again and again.
6 Beautiful Pieces Worth Checking Out
Here at Albert's Diamonds, we carry a wide variety of wedding bands that could match beautifully with nearly any engagement ring you might own.
A Jaffe is one of the many top designers we house in our showroom and are known for creating universally celebrated wedding bands. One clear example of A. Jaffe's classic brilliance is their Art Deco collection, which utilizes a single ring of round-cut crystal clear diamonds to make for a truly timeless work of art.
A. Jaffe is also no stranger to the charmingly unique and modern and has made it abundantly clear in their Classics wedding band collection. Two rings found in this collection could match beautifully with any engagement ring design.
One of these pieces utilizes an artfully curved, platinum band, which draws the viewer's gaze to the ring's center row of round-cut diamonds. This second wedding band is a newlywed favorite and uses both eye-popping diamonds and durable platinum as a kind of shared centerpiece.

Not every wedding band needs incredibly flashy diamonds; sometimes the diamond can be used subtly. A. Jaffe makes a point of this with their Metropolitan wedding band. With 18K white gold and a half circle of small, yet still glittering round-cut diamonds, A. Jaffe's Metropolitan wedding band is a stunning work of art.

When searching for the best wedding band for your engagement ring, you don't always have to rely on traditional styles. Sometimes, modern is better, and Verragio's Insignia wedding band is a perfect example of that. With a pair of overlaid white gold bands and a dressing of crystalline round-cut diamonds, this piece will undoubtedly take your breath away.

Here at Albert's Diamond Jewelers, we have many beautiful wedding bands that can match with almost any kind of engagement ring. We use stunningly modern and lovingly traditional designs to create unique pieces that will continue to warm your heart for many years to come.
Find the Best Wedding Band at Albert's Diamond Jewelers
At Albert's Diamond Jewelers, our skilled staff can help you fulfill any of your fine jewelry needs. While we do carry a plethora of designer wedding bands, we also have designer engagement rings, fine fashion jewelry, Swiss-made timepieces, and GIA-certified loose diamonds.
You can find our showrooms located in Schererville and Merrillville, Indiana. Since 1905 have served the nearby towns of Chicago, Munster, Highland, Gary, Lansing, Willowbrook, and Griffith with both fine jewelry and professional jewelry services.
To learn more about our products and services, including onsite appraisals, jewelry repair, watch repair, and custom jewelry services, visit our website at Albertsjewelers.com or give us a call at (219)-322-2700.