Hot or Not: Are Birthstone Engagement Rings the Next Big Bridal Trend'
May 29th, 2019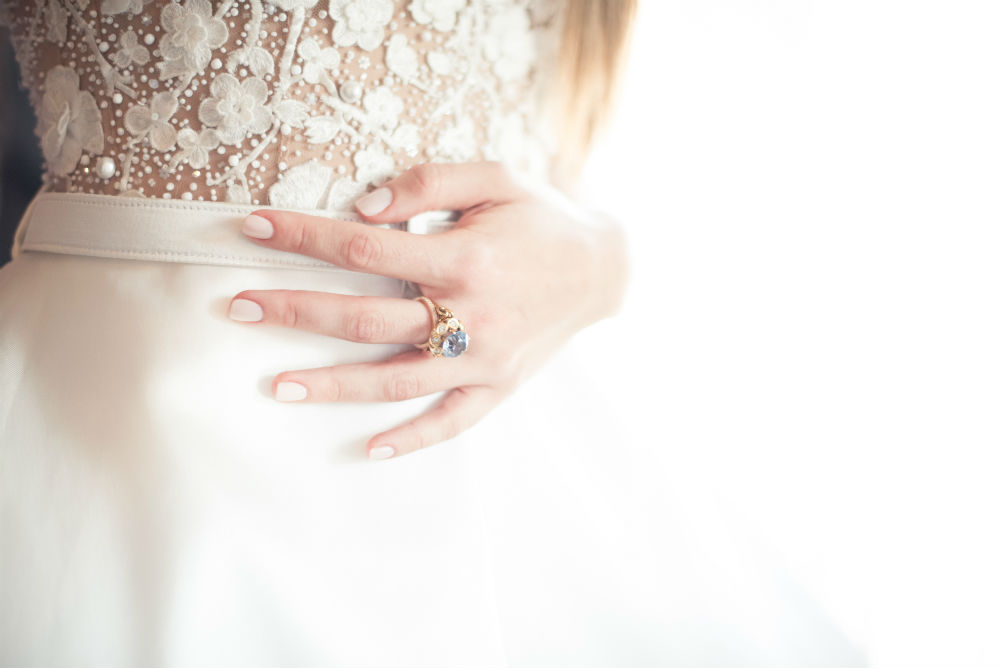 Birthstone engagement rings are the hottest new trend in bridal jewelry. Colored engagement rings have made a resurgence across social media and fashion magazines in recent months. For a more personal touch when choosing colored engagement rings, a birthstone engagement ring can be the perfect option for you or a loved one. Searches for birthstone engagement rings have skyrocketed and our bridal specialists don't expect them to let up any time soon.
Every month of the year has a corresponding birthstone. January's is garnet. February's is amethyst. And so on. To hop on this trend, make sure you choose the gemstone that corresponds to your beloved's birth month.
Here's a quick explainer of the birthstone engagement ring trend and some options you might want for your proposal.
The Birthstone Engagement Ring Trend
Birthstones arguably began in the first century when a Jewish historian noted 12 stones on Aaron's breastplate symbolizing the 12 months of the year and the 12 tribes of Israel. Since its religious inception, birthstones have permeated the mainstream into luxury jewelry including engagement rings. Here's a quick breakdown of each month's birthstone:
January - Garnet
February - Amethyst
March - Aquamarine/Bloodstone
April - Diamond
May - Emerald
June - Pearl/Alexandrite/Moonstone
July - Ruby
August - Peridot/Sardonyx/Spinel
September - Sapphire
October - Opal/Tourmaline
November - Topaz/Citrine
December - Tanzanite/Zircon/Turquoise
For Those Born in February
February's birthstone is amethyst, a violet variety of quartz. It was once thought to protect people from drunkenness by the ancient Greeks. Amethyst has an elegant and majestic feel with its warm and lustrous sparkle.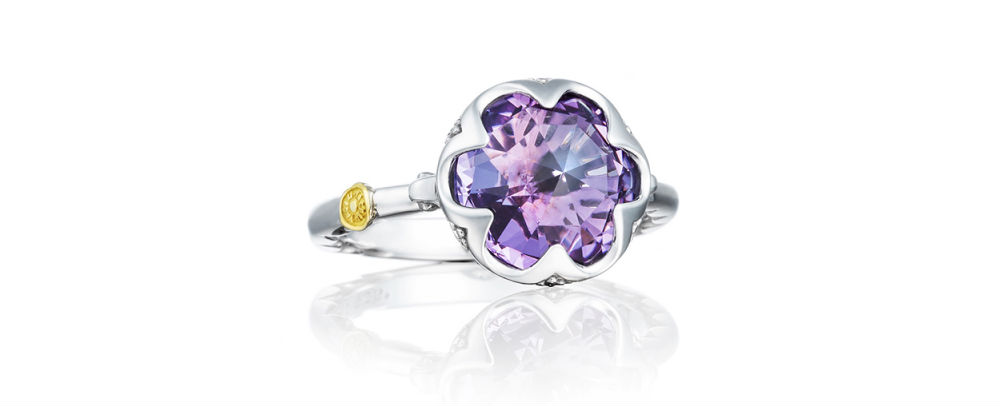 Tacori's Sonoma Skies collection features a fashion ring crafted from sleek sterling silver. It features a large and imposing round cut amethyst with a commanding and regal presence. Supported by a delicate prong setting, this February birthstone engagement ring will bring you peace and clarity on your special day.
For Those Born in June
June babies are lucky because they get to choose from three birthstones, as June is one of only three months that has three stones. You get to choose between alexandrite, pearl, and moonstone, and honestly, you can't go wrong with any of them.
For Those Born in August
August is another month that enjoys three birthstones. Originally, sardonyx was August's birthstone, but peridot and spinel were also added, giving August babies plenty of stone options to choose from.
Le Vian's fashion ring features a mesmerizing round peridot center stone. Its radiant lime green shine contrasts wonderfully with its yellow gold exterior and dark detailing. Yellow, black, and green make for a unique birthstone engagement ring. August birthday celebrants will definitely want to scoop this up.
For Those Born in October
October babies get to pick from 2 birthstones: tourmaline and opal. Tourmaline gemstones vary in color depending on its trace elements, while opal reflects light showcasing multiple colors.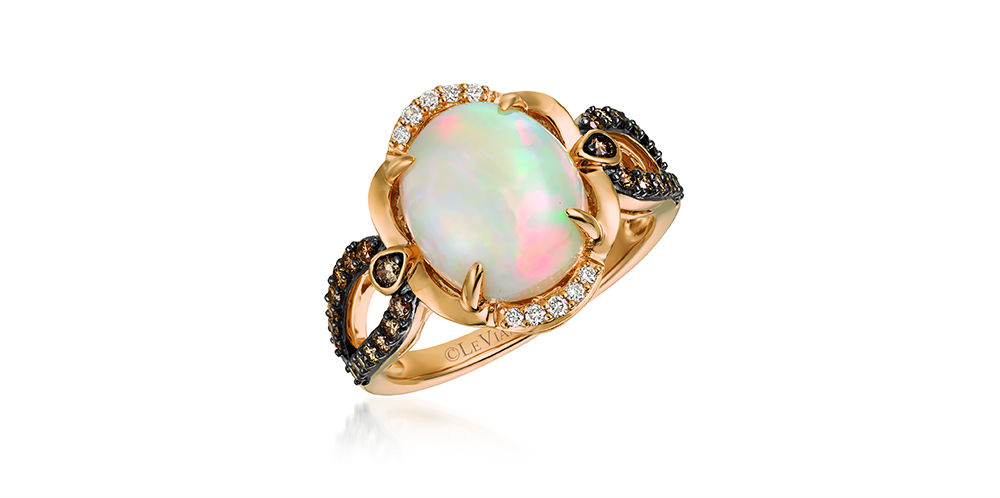 Le Vian's fashion ring features a hypnotic Neopolitan opal that has a flurry of colors and a kaleidoscopic-effect.
Internal diffraction creates a wonderful display of colors and a radiant iridescence in opal. You can spot shades of blue, red, pink, and more in this October birthstone engagement ring.
For Those Born in November
November's birthstones are topaz and citrine. During this brisk month, you can get these budget-friendly gemstones on your birthstone engagement ring. They're pretty common and can be had for an affordable price.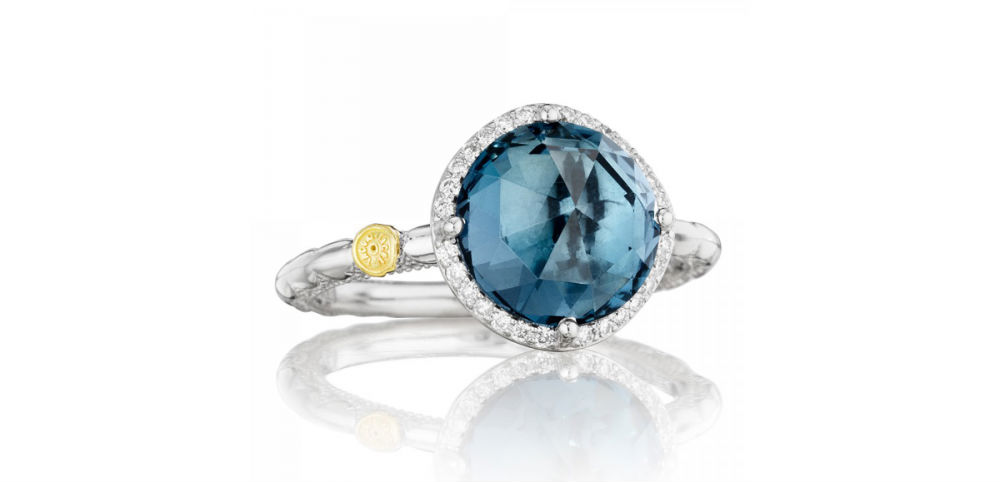 Tacori's Island Rains has a commanding round topaz center stone. It has a deep blue hue and a simple band to provide some color contrast. Small round diamonds form a halo around the topaz stone to bring out its hues and create a beautiful light effect on the ring. November birthday celebrants have one more thing to celebrate.
Find Engagement Ring and Wedding Bands at Albert's Diamond Jewelers
Get all of your birthstone engagement rings at Albert's Diamond Jewelers in Merrillville and Schererville, Indiana. We have a sizeable selection of luxury diamonds and bridal jewelry to make your wedding day that much more special. Get brand-name engagement rings or create your own custom design to get the ring you've always dreamed of. Visit one of our showrooms to get the special treatment and come out with an engagement ring you'll love!