Find the Perfect Earrings for Your Dream Wedding Day!
March 21st, 2018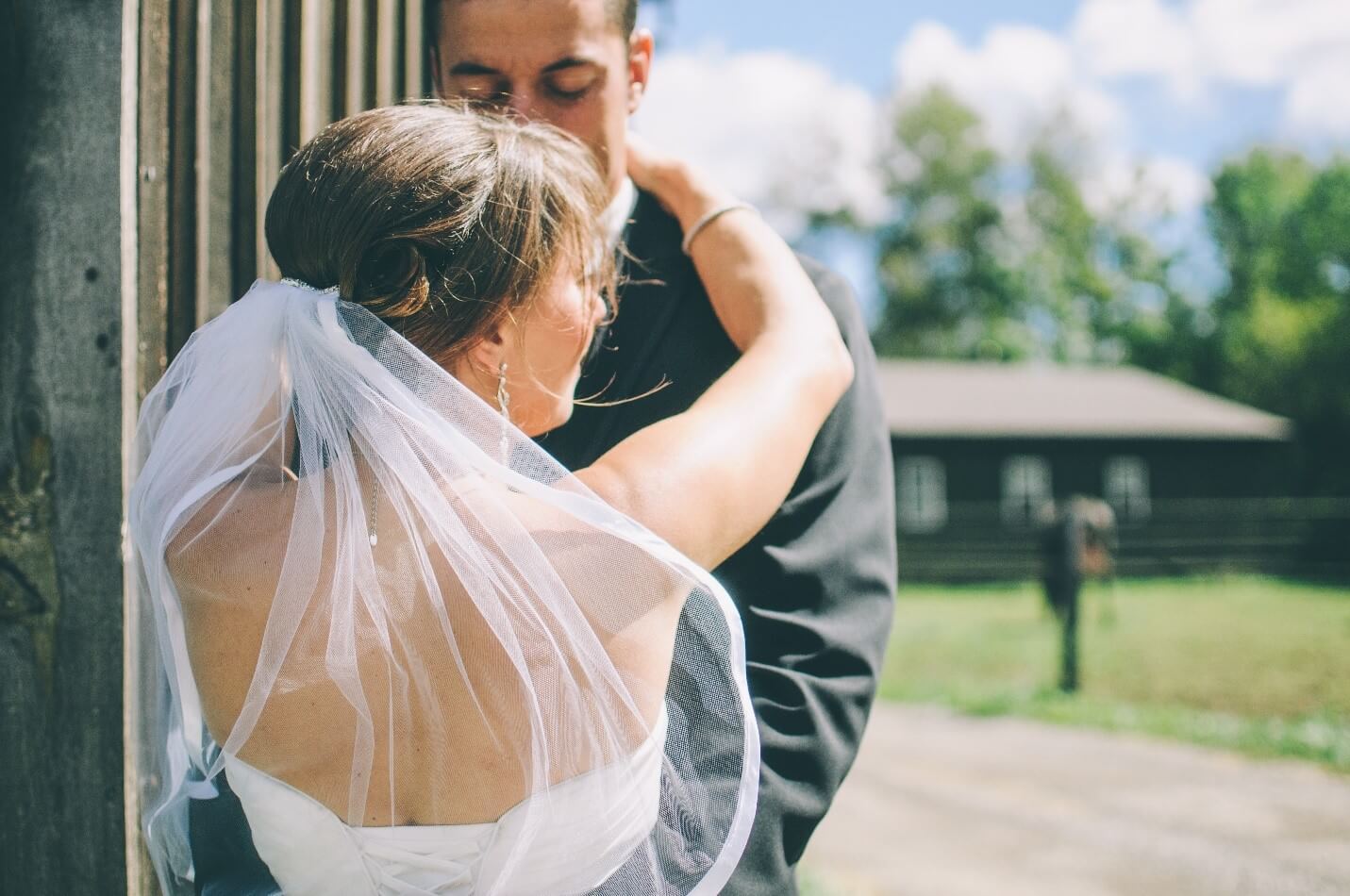 So, you've picked out your wedding dress, the wedding bands for you and your partner, your shoes, your hairdo—everything! But wait, do you have earrings for the big day? It's always the little things that people overlook, but we at Albert's Diamond Jewelers have some recommendations to make the process of finding earrings for your wedding as simple as possible.
We picked three of our favorite designers, Marco Bicego, Tacori, and John Hardy, and selected two earring samples from their collections to give you a wide cross-section of choices.
Hopefully, you'll get some good ideas after reading!
Marco Bicego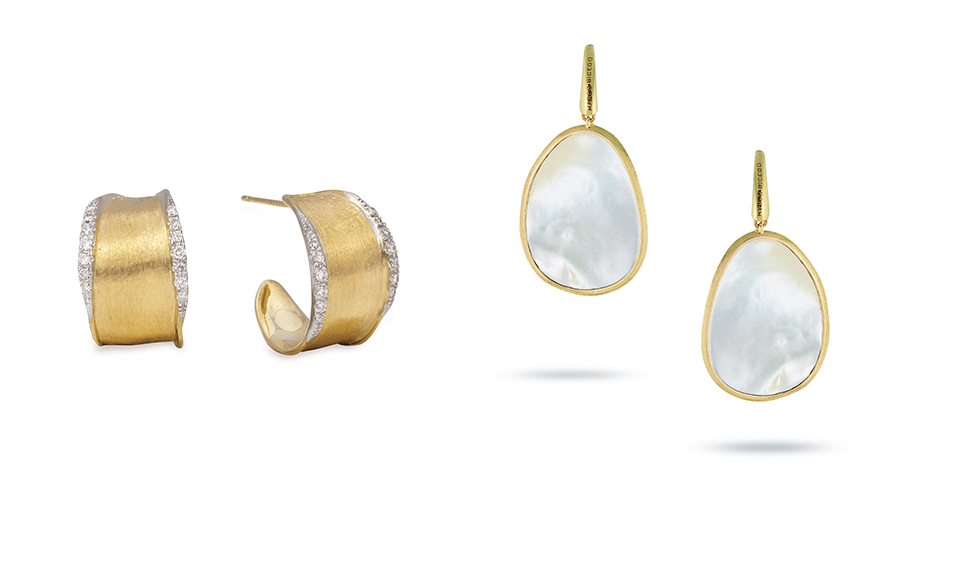 (Pictured: Marco Bicego Diamond Lunaria Earrings OB1357-B-YW and Lunaria Mother of Pearl Earrings OB1343A MPW)
Marco Bicego earrings have a kind of purity and artisanal beauty that match perfectly with the white of a bridal dress. The brushed 18-karat yellow gold of these earrings accentuates the material used in them.
The Diamond Lunaria model OB1357-B-YW (pictured above on the right), for example, is a pair of huggie-style earrings framed by 0.28 carats of bright white diamonds. The precise placement of diamond against gold serves to make the diamonds glitter even brighter, making them match even better with a wedding dress and makeup.
Additionally, mother-of-pearl as a satiny white jewel is the perfect partner for any charmeuse, chiffon, or silk dress. The Lunaria Mother of Pearl model OB1343A MPW features two irregularly shaped planes of mother-of-pearl that is set in 18-karat yellow gold, the precious metal and organic gleam blending together to make a stunning pair of wedding earrings.
Tacori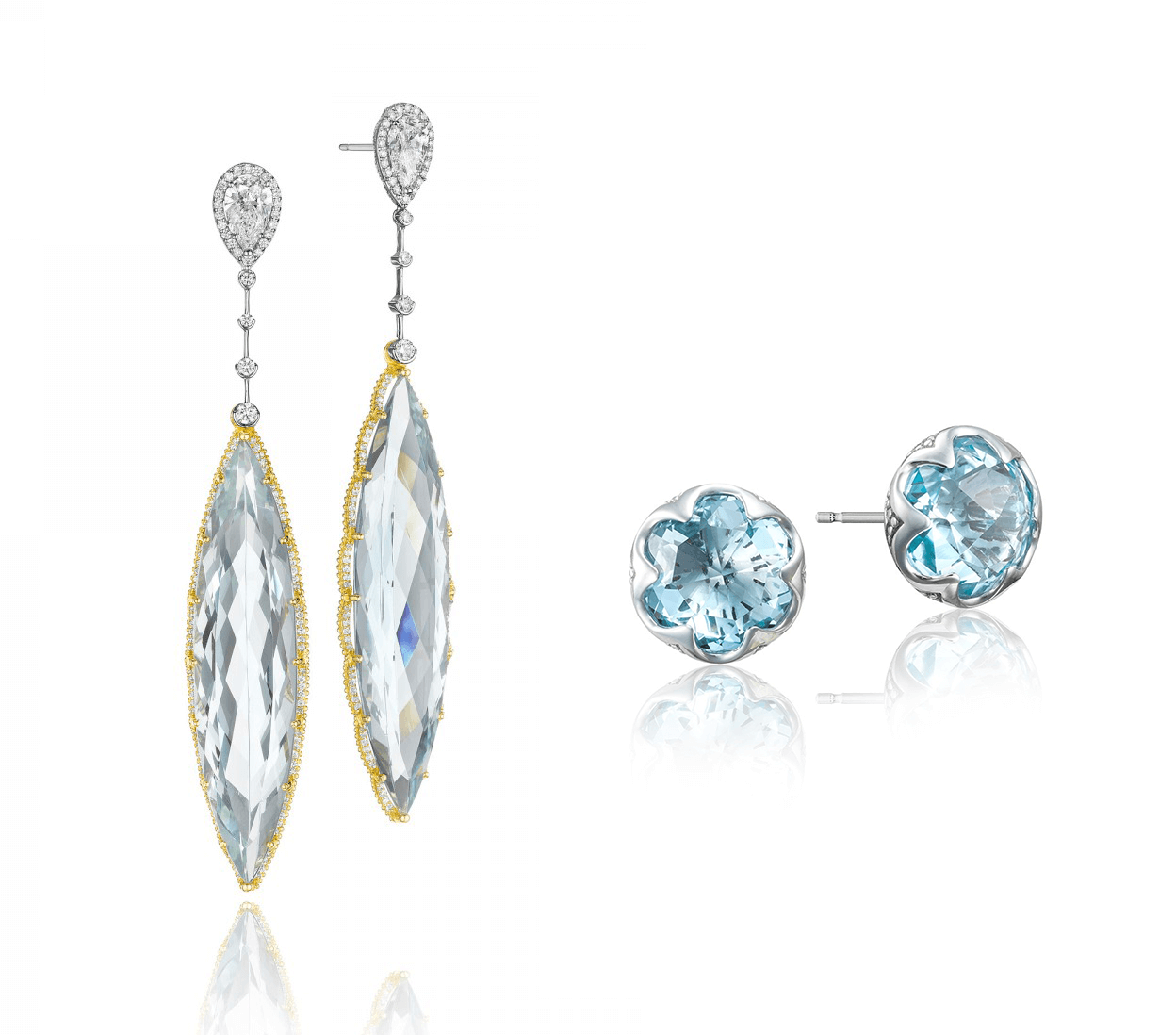 (Pictured: Tacori Vault Earrings FE011 and Tacori Sonoma Skies Earrings SE20802)
Tacori earrings tend towards prominent displays of faceted jewels, so for wedding dresses and veils accentuated with beadwork or jeweled appliqués, a pair of Tacori earrings would be the right element to spice up the look.
Of our two options, the Vault FE011 is the choice for the lady who wants big, glittering jewels to wear at her most special day. Pale green beryl, carved into a marquise shape, is set against three carats of fiery diamonds. Grazing a bride's shoulder, these 18-karat yellow gold earrings will draw every eye as she walks down the aisle.
We selected the Sonoma Skies SE20802 for two important reasons. The simple charm of blue topaz and 925 sterling silver is a surprising treat for the eyes, making them the perfect accent for an elaborate bridal look. Also, we'll add that as a lovely blue pair of earrings, they fit the "something blue" part of the good luck charm!
John Hardy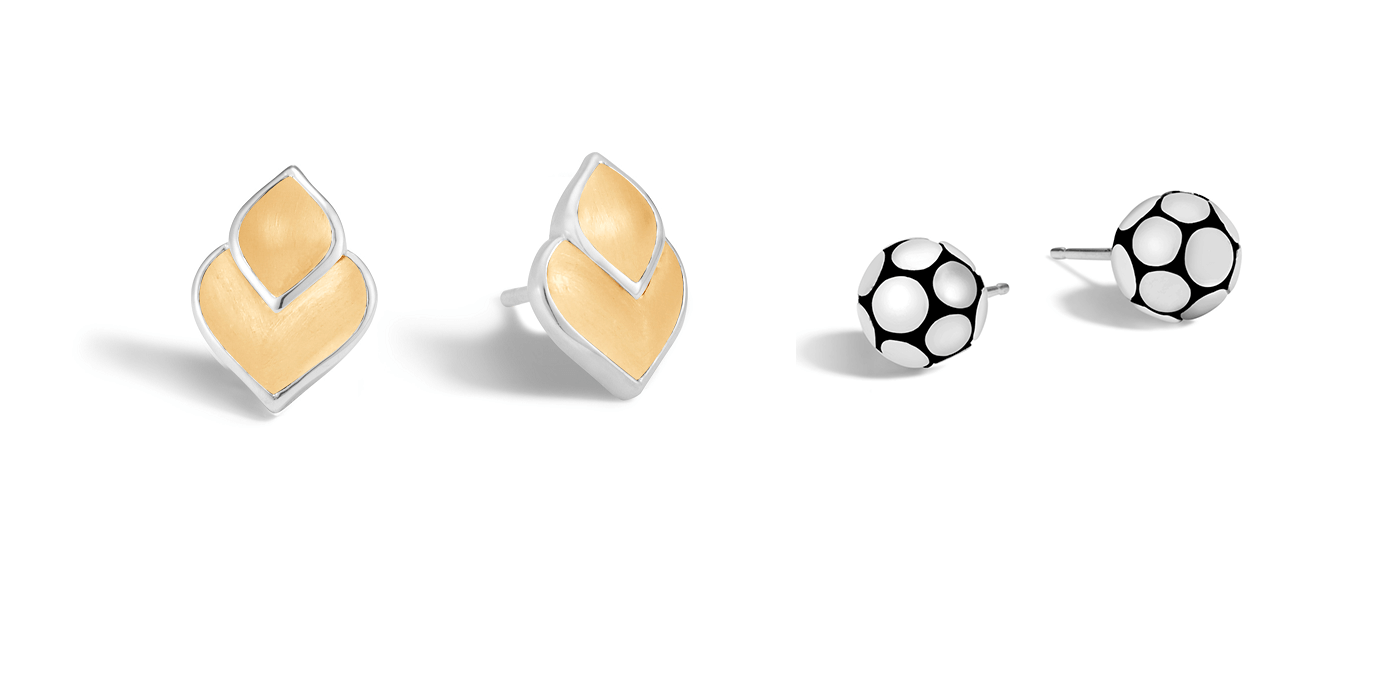 (Pictures: John Hardy Legends Collection Earrings EZ650112 and Dot Collection Earrings EB3976)
Women choose John Hardy earrings because of their wildly unique designs and patterns, and the two sets of earrings we chose to balance the John Hardy inventiveness with the delicate charm required for a bridal look.
The Legends Collection EZ650112 is a visual treat for the bride and her new spouse—these 18-karat yellow gold and sterling silver studs are a slightly abstract design that reminds the viewer of a pair of golden hearts filled with a candle flame. Is there any more elegant symbol of celebrating an eternal love than that'
The abstract John Hardy look is also well-expressed in the Dot Collection EB3976 earrings. These ball earrings, decorated with silver-white polka dots on a black background, are a cute and simple look to any bridal ensemble.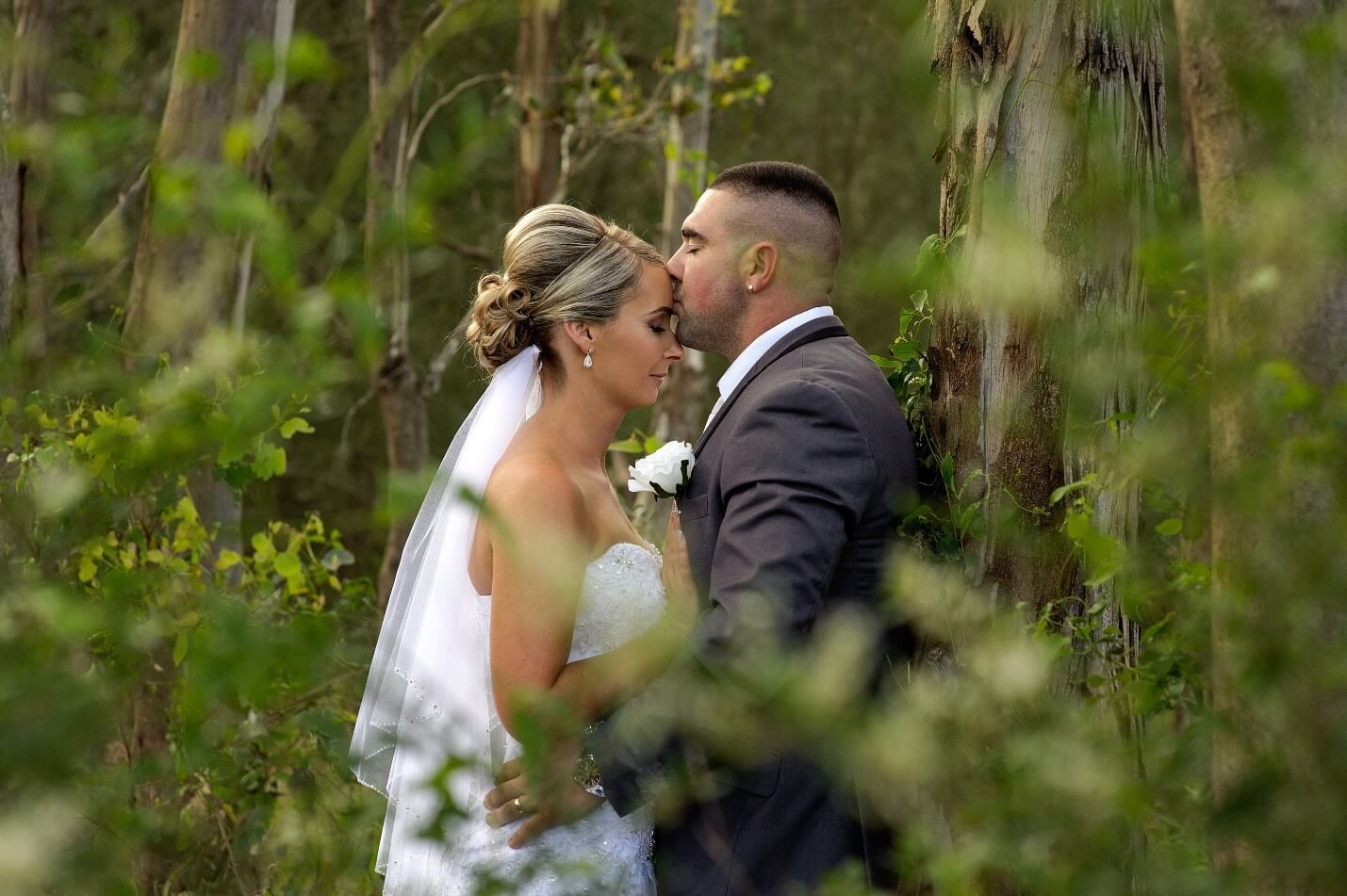 Find Your Wedding Jewelry at Albert's Diamond Jewelers!
Tacori, Marco Bicego, and John Hardy are all genius designers of earrings, but Albert's Diamond Jewelers is also proud to be an authorized dealer of other earring designers, such as Kabana and Le Vian. Browse our selection of fine earrings to find a new look for your wedding!
For more information on the earrings featured here, or see other styles of earrings, check out our "Contact Us" page, call (800) 946-1491, or visit the two showrooms of Albert's Diamond Jewelers in Schererville, Indiana and Merrillville, Indiana, today!