4 Reasons Why Citrine Birthstone Jewelry is the Perfect November Gift
November 1st, 2019
Citrine is the colloquial name for an elegantly yellow shade of quartz, which is formed in nature when the silicon tetroxide framework of quartz captures iron atoms, turning the crystal the famous color from which it derives its name. Citrine has been treasured for millennia, and it's not hard to see why when you can admire its transparent sunshine—either on its own or paired with the glitz of a yellow diamond necklace.
Along with topaz, citrine is one of the birthstones for November; this means that when you're searching for an exceptional piece of jewelry for a loved one who was born in the 11th month of the year, it may be a great idea to get them some glitz made with this magical stone. Here at Albert's Diamond Jewelers, many of our customers come in looking for special birthstone jewelry—and we're always ready to discuss their excellence!
Science
Iron-packed silicon tetroxide is the scientific description of citrine, but there's a few other things about this jewel that make it truly special. Quartz is listed as a 7 on the Mohs scale. This makes it one of the harder gemstones available for use in jewelry. Steel can't mark it, which makes it an ideal choice for a fashion ring. If your loved one runs the risk of hitting their hand against things, it might be a great idea to get them a Le Vian ring that mingles the beauty of expert craftsmanship and cinnamon-yellow citrine with the durability to last generations.
Symbolism
On a more mystical level, citrine is known as the "merchant stone," thanks to the similar hue it shares with gold. For centuries, people believed that citrine, held close, can lead to money flowing into one's coffers. Whether or not your special November someone believes in that mysticism, there's something fun about the idea. And if that's the case, why not choose a style of jewelry that not only shows off the beauty of citrine, but keeps the money-making magic of the "merchant stone" close to the skin'
Kendra Scott, one of the designers we showcase at Albert's Diamond Jewelers, works primarily in brilliantly colored stones, and when you're searching for a glittering pair of citrine stud earrings, Kendra Scott is the designer for you.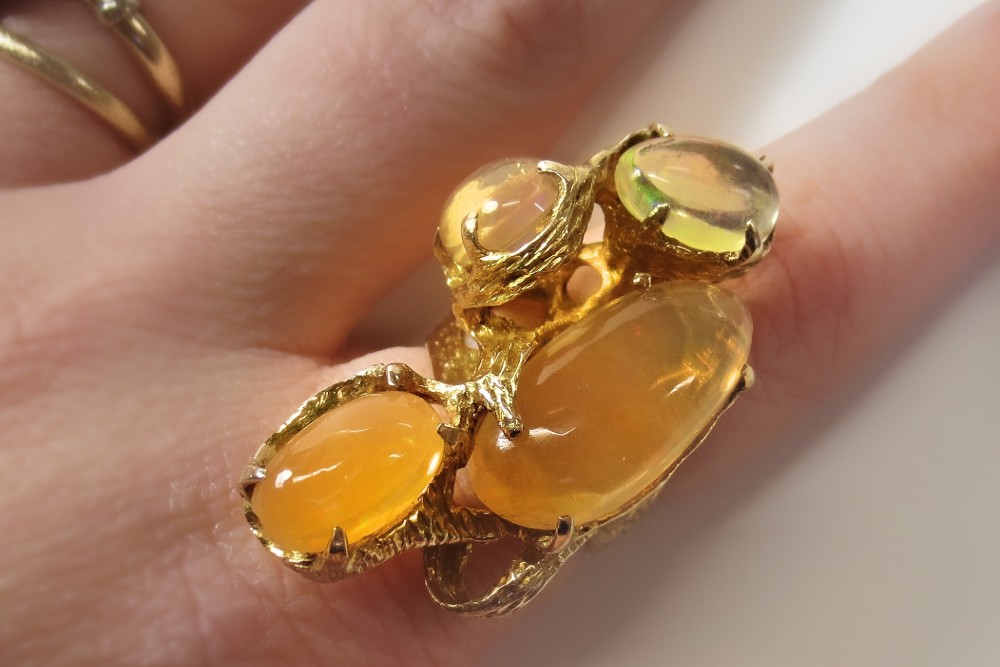 Cost of Citrine
One of the pleasant things about citrine is that, as a quartz gem, it's significantly more cost-effective than other yellow gemstones. Compared to yellow diamond, heliodor, or yellow sapphires, citrine is a great deal for the jewelry shopper. It shouldn't surprise you that citrine is the most popular of yellow gemstones, and if you're planning on getting some jewelry for your special November someone, the value of citrine means that you can splurge on a whole parure of pieces—earrings, necklaces, rings, all of it.
Size
The cost of citrine plays into another reason why you'll prefer purchasing the sunny gemstone. Because citrine is less expensive per carat than other yellow gems, you can afford far bigger pieces of citrine in gifts. If you're shopping, for example, for a gemstone necklace, and you want to get your loved one a gift that'll absolutely steal the show, citrine birthstone jewelry is an amazing choice.
Shop for Citrine Birthstone Jewelry at Albert's Diamond Jewelers
If you're interested in learning more about citrine and the designer citrine jewelry we showcase at Albert's Diamond Jewelers, don't hesitate to contact us at our showrooms: (219)-322-2700 for Schererville, Indiana and (219)-769-1976 for Merrillville, Indiana!