Wedding Couple One Year Later: 10 Years in the Making
February 8th, 2017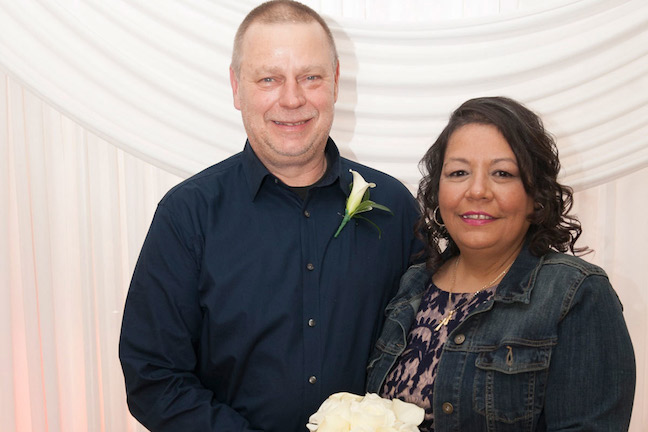 Written by: Jessica Campbell
Erazema (Cookie) and Mark Czuba had been dating for 10 years before they got engaged in February 2015. A brief year later, they were married in a special "Say I Do" ceremony at Albert's Diamond Jewelers on Valentine's Day of 2016.
Cookie and Mark met after calling into a radio station. The station's DJs fed their information - likes, dislikes, what they were looking for in a spouse, - into a computer. The results spoke true for the soon-to-be-Czubas, and their data-created love connection only grew stronger.
Cookie lived in Valparaiso at the time and Mark lived in Crown Point. After talking on the phone for about four months, they decided to meet for dinner, which was a successful first date, she said.
The relationship continued to grow, however, due to family issues and Mark's very busy job, she said, the two had trouble seeing each other in person on a regular basis.
"We kept talking on the phone. It was a 10-year period and we didn't see each other a lot. He worked a lot," she said. "We were dating, but we weren't seeing each other like we wanted to. There were days we would see each other, but overall maybe four times year at the most."
In 2012, this phone-heavy relationship was starting to wear on the two. They decided to get serious and in February 2015, Mark asked Cookie to marry him.
The long duration of phone calls was difficult, but the two handled it with patient, relaxed attitudes. Jokes were, and still, are being thrown around, she said. The most frequent joke was the possibility that if the two got married, Mark would have to watch his weight on the account of Cookie's delicious, gourmet meals.
"It was so funny. He always said, '€˜Oh, I can't marry you because you cook so good. If I marry you then I'm going to be real fat!'" she recalled, realizing that they always talked about not getting married, then actually getting married someday.
"So, then he said, '€˜Yeah you're right. So, will you marry me''" she said. "And I laughed and said, '€˜Aww, yes.'"
The Czubas went to the Albert's Diamond Jewelers Schererville store to pick out a ring. While there, they were told about the "Say I Do" at Albert's Wedding Day on Valentine's Day. This was an event familiar to Cookie, as she had friends and a step-sister married at the store.
"When we got our rings the Albert's employee explained to us about how they decorate the room. You can bring your own bridesmaids, they prepared the cake," she continued. "For me that was great because I didn't want to go through a year of preparing a wedding. So, I made it very simple and we got married at Albert's with our little 15 person group."
Cookie, a country-girl at heart, said she and her flower girl wore their cow-girl boots. After the ceremony, the wedding party had dinner at Theo's Steaks and Seafood where they cut the cake from the wedding.
"It was the best. If you're a very simple person, it is the best way to get married," she said. "I was nervous to get married, but I didn't have to worry about anything for the wedding."
This year, with the one-year anniversary coming up on Valentine's Day, Cookie and Mark will once again do their simple thing.
"I plan on making a really nice dinner, then we are going out for a cocktail," she said. "Like I said, I'm a cook and I am very picky, so I like to cook and make sure the food is good and there are no complaints."
Click here to view this article on valpolife.com