Speros and Aimee: Engaged With Albert's
May 8th, 2017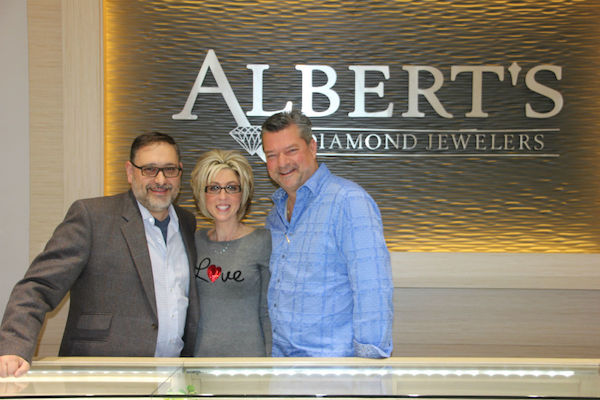 It is fitting to see a love story like the one between Aimee and Speros Batistatos be supplemented by an enduring, quality-focused company like Albert's Diamond Jewelers. The bride's custom-made ring was chosen by Speros, and crafted by President Josh Halpern, as an example of how when you come to Albert's you're not only forming an engagement with your future partner, but with the Albert's family as well.
"This is not your typical jewelry store," Speros, President and CEO of the South Shore Convention and Visitors Authority said. "These are not guys trying to sell you something, it is about the relationship. They are helping you fill a need and using jewelry to do that."
The relationship between the Halperns and Speros began long before even the relationship between Aimee and Speros started, back when the jewelers had only one store in East Chicago.
"I have been doing business with Fred and Josh Halpern as a customer about 25 or 30 years ago. Albert's was this place everybody talked about," Speros said.
Due to her position as the Director of Client Relations and Senior Trial Paralegal for the law firm of Kopka, Pinkus, and Dolin, Aimee would occasionally remark to Speros that she never had anyone (namely Speros) welcome her home with a sign at the airport.
So, on September 11, 2015, Speros greeted Aimee at Midway Airport by holding a large pink "Welcome Home" sign. A speaker played Etta James' "At Last" as Speros got down on one knee and proposed, holding her Albert's-designed ring.
What makes customers like the Batistatos' choose Albert's Diamond Jewelers is what most businesses call customer service. However, for this company, it is a bond stronger than that, where friendship and perfection create a unique connection.
"He gets into your head and just knows what you need before you know what you need. That is what a professional does: makes sure it is perfect," Speros said. "They are never trying to sell you anything and they are not trying to retire on this deal. It is about creating a long-term lifelong relationship."
It is easy to make a one-deal transaction, Halpern explained, but the Albert's staff is not looking for the fast-and-easy sale. "We are not a transaction company."
"Everything about what you do is centered on relationships," Halpern said. "I want to establish and teach my staff how to build relationships. That is the right way to do business and that is how you earn clients for life. When you build a client for life, then not only are they going to be repeating customers, they are going to send their friends family and everyone else."
For Speros and Aimee, they returned to the store just a few weeks later to design and order their wedding rings. They were married at Greek's Island Restaurant in Chicago on New Year's Eve in 2016.
Speros' ring is also Albert-designed, and is an example of how the store will custom-make any style for the customer. The store is unique in that it carries such a large selection of rings and jewelry accessories for men.
When it comes to the bride's wedding band, Halpern said it will always depend on the bride and the situation. Does the bride want to be "matchy-matchy'" Does she want to be symmetrical and have a band on either side of the engagement ring? Or does she want to be able to wear the wedding band alone without the engagement ring'
"We have thousands of rings in stock, so I have the bride try on lots of different rings to see what her style is and then we play off what she likes," Halpern said.
Aimee and Speros' story is just one of hundreds Halpern has heard as owner of Albert's Diamond Jewelers. He sees an engagement at the store nearly everyday and on others, welcomes back couples looking for a 30-year anniversary present.
It is his aim for friendships, and for customer satisfaction 100 percent of the time. Perfection truly makes the store one-of-a-kind.
"Just being okay or good isn't good enough. That's why you do business with these guys. They leave nothing to chance, nothing is ever good enough for them, and it has to be perfect," Speros said.
Looking around the store, it is always bustling with people looking for something more than just a piece of jewelry. Couples try on the styles, learning the difference between princess and emerald cut, husbands search for early Mother's Day gifts, and mom's look for their daughter's graduation present. Everywhere I looked, I saw that connection among customers, staff, and the little piece of gold sparkling in their hands.
"They truly care about you and they want to make your story special," Aimee said.
"This is so much more than a place to buy jewelry," Speros added. "This is a place to make memories."
Click here to view this article on valpolife.com