Paul and Lisa's Love Story
May 17th, 2013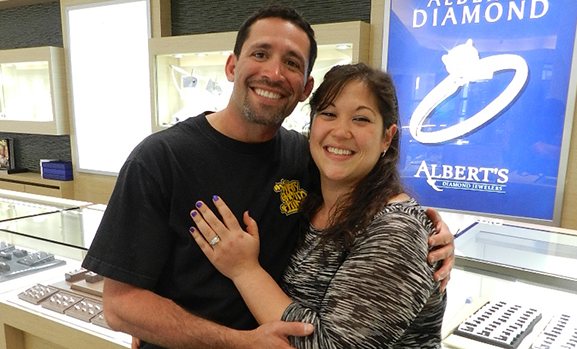 "Oh love, Oh love, Won't you rain on me tonight'"

It wasn't raindrops Paul and Lisa felt the night they got engaged, but it's safe to say the love AND the spotlight rained down upon them!

But let's back up…

Paul met Lisa at her workplace. One glance between the two was all it took. This adorable couple had planned a trip to see Green Day at the All-State Arena, and Paul decided this was his moment to ask Lisa to be his wife.

After shopping at Albert's for the perfect ring (and we must say, WOW! That ring is beautiful Paul!), Paul started planning his proposal. A month before the concert, he was reaching out to everyone he could related to the Green Day tour. Finally, he got in touch with someone, who put him in touch with someone, who put him in touch with someone…. and was able to put his plan together.

Before Green Day took the stage, the lights went down over the packed house of 18,500 concert goers at All-State Arena. The next thing Lisa knew, the spotlight was on her and Paul. Silence filled the arena, in anticipation of what was about to happen. Paul asked Lisa to be his wife, and she answered yes! The crowd erupted in approval.

Lisa and Paul spent the remainder of their weekend in Chicago, with the exception of a short trip to Albert's to have her ring sized (on the premises!).

Recently, they sent us one of their wonderfully creative Save the Date magnets. We love it! And don't worry, we won't forget you two Paul and Lisa! Thank you so much for allowing us to be a part of your very special moment. We look forward to many years of happiness and celebration with you both!

Do you have a love story you'd like us to share? We're all ears!