Our Love Story - The Boy Next Door
February 5th, 2016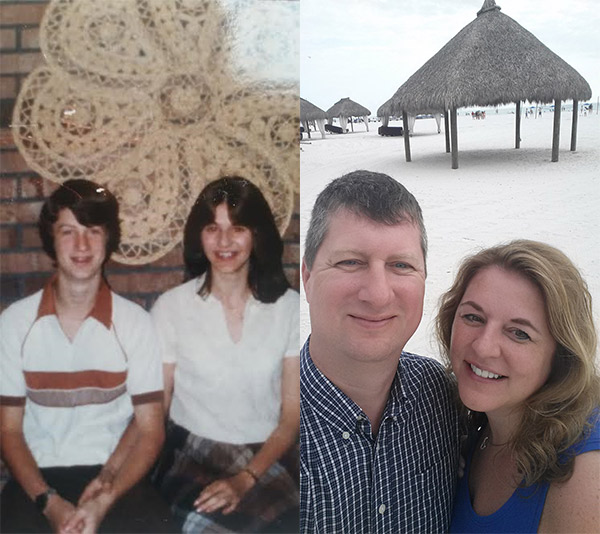 Mark and I have known each other for over 40 years! He was the boy next door.
When I was five years old, Mark and his family moved into the house two doors down from me. Dump trucks and snowball fights were our first play dates.
As we were growing up Mark and I would hang out together. Every day I would pick up Mark and his sister, Rochelle for school. That's where our first crush began. I thought Mark liked me and I knew I liked him. When we were 14 years old we had our first kiss and decided to "date", which meant holding hands.
The following year we broke up but continued to walk to school together every day. His sister, Rochelle, became my best friend. Mark and I even double dated to the high school prom. After graduation, Mark got married and I attended his wedding. Mark started his family and I started my career. Since I was his sister's best friend, Mark and I would see each other every Christmas and at all the family functions throughout the years.
Then fate happened. A few years ago and a few life changes later, Mark and I started hanging out again and going to the movies every week. The dinner dates and movies turned into a summer romance which led to true love. The relationship was kept a secret from our families and no one really noticed since we were always friends.
On my birthday last July, Mark asked me to marry him. Our families were completely surprised but elated since no one really knew we were dating. Everyone always thought we should have been together. Albert's was the place we wanted to get the ring. While choosing the ring, we heard about the love story and marriage of the owners on Valentine's day.
Because we were treated like family when we bought our rings and wanted to have our families be there on our special day, saying I do at Albert's was the perfect place. Getting married on Valentine's day, the day to express love and give love, will be the perfect day.
So on this Valentine's day, the boy next door and I will become a blended family of 4 kids, 2 grandkids and a lot of years of memories still to make and love to share. Mark is destined to remember his anniversary and hopefully I am destined to get something from Mark from Albert's every Valentine's day.