Albert's Wedding Couple One Year Later
February 14th, 2017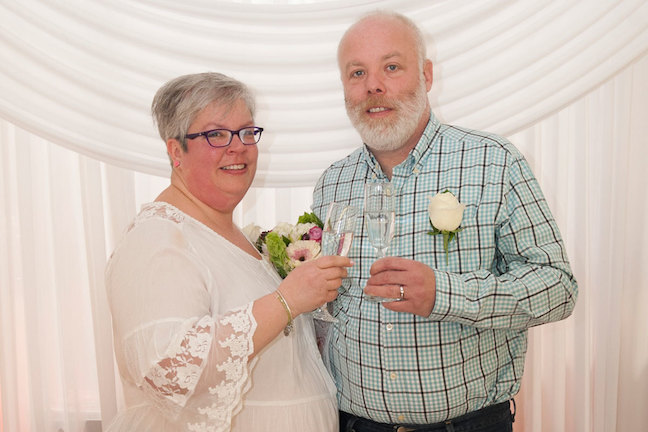 Written by: Jessica Campbell
Bill and Joan Harnden met each for the first time at a donut shop in Chicago called Stan's Donuts. A year later, Bill dropped to one knee and proposed, creating a beautiful, fun memory among the glazed donuts and brewed coffee.
Then, on Valentine's Day February 2016, the two were again in a store. This time, they were amongst the rings, the necklaces, and the staff members of Albert's Diamond Jewelers saying "I Do" for their wedding.
"Stan's is our meeting place, and Albert's is our wedding place," Joan said. "They are both really nice memories!"
Joan met Bill through eHarmony a few years ago. The two were both single, middle-aged parents who were drawn together by their deep love of music and the approaching "empty-nest" situation at their home.
For a month, they talked via the phone and communicated online. On May 1, 2015, they decided to meet at the donut shop in Chicago. The meeting sparked the already brewing chemistry and they continued to talk regularly. Because of the distance between the two, him from Chicago and her from Hammond, Joan said they tried to talk every day on the phone.
"Our love blossomed over time and one year later we went back to Stan's Donuts for our anniversary and Bill got down on one knee and proposed to me," she said. "It was a magical moment between the two of us that I will never forget."
Everything after that donut date fell into place. The ring Joan now wears is a family heirloom, but she and Bill went to Albert's Diamond Jewelers in Schererville to get it sized. While there, they met with a friend who worked at the store. He told them about the "Say I Do" weddings at the store held every year on Valentine's Day.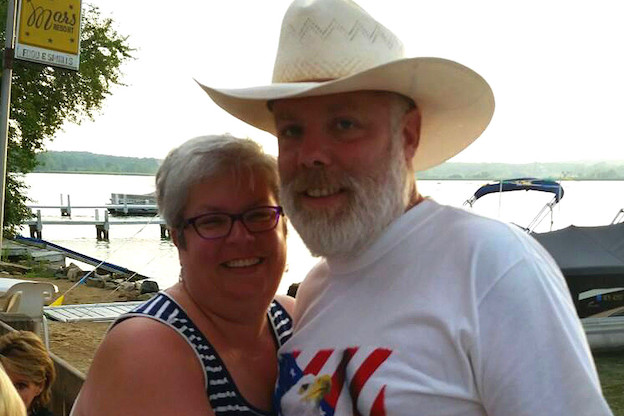 "You can make it as elaborate as you want or as simple [as you want]," Joan said. "It really is a magical day at the store. The entire store just had this positive vibe and energy and it was great to be a part of it."
Joan and Bill had their families celebrate the day with them, with Joan's daughter acting as the "photographer who couldn't keep from crying."
After the ceremony, the now-merged families held a reception at Joan's parent's house, where they had an additional cake baked by a cousin and many tears of happiness, Joan said. Then, in April the newlyweds flew to New Orleans for a honeymoon filled with food and music.
This year, to celebrate their one-year anniversary, Joan is taking Bill back to his old hometown, to do Chicago the "tourist way."
"We are taking a day off from work and spending it as tourists in Chicago," she said. "Since my husband is from Chicago, he never really did the tourist thing. So, we are going to a couple of museums and some good food and spending the day together. That is the celebration this year."
A celebration can be extravagant with big ball gowns and fancy five-star dinners. Or it can be a small; a simple gathering of loved ones, sharing in something new and exciting together. That is why the ceremony at Albert's Diamond Jewelers was perfect for the couple: it was a way to celebrate something special in their own way.
"We wore jeans and Converses," Joan said. "The wedding behind us had gowns and suits and bridesmaids. It was just whatever you wanted it to be for the day."
Click here to view this article on valpolife.com