A Tradition of Love: Saying "I Do" at Albert's
January 19th, 2017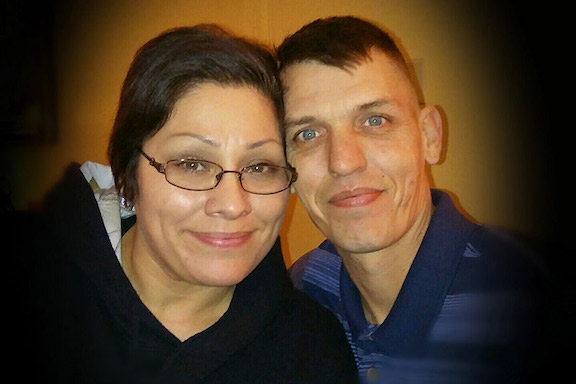 Written by: Jessica Campbell
One was a truck driver stationed in California, the other, a driver stationed in Indiana. Miles and miles stretched between them, but this Valentine's Day, their routes are merging together at Albert's Diamond Jewelers store.
Apples Vasquez and Michael Cullum are one of many couples with their hearts set on a very special Valentine's Day. They will "Say I Do" on February 14 at the Albert's Schererville location, partaking in one of the oldest traditions of the company.
The couple briefly crossed paths at a work event; at the time, they were both working for the same trucking company. When Cullum moved back out West, they became Facebook friends and kept in touch. Years passed as each one moved forward from a previous relationship and Vasquez spent some time in the hospital for health issues, but the time just made their relationship stronger.
"He was always there to lend an ear when I was down," Vasquez said. "He always asked me how I was doing and was just a good friend."
In the summer of 2016, there conversation began deepening and in August, Cullum made the move to Indiana. On Christmas Eve, he surprised Vasquez with an engagement proposal.
Vasquez began planning for a late fall wedding, but the time and management to plan was not easy with her irregular work schedule. Her boss told her about the tradition of the Albert's weddings and Vasquez signed up for a spot soon after.
"I looked it up and was interested and on a whim, I signed up for it," she said. I know a lot of people say getting married on Valentine's Day is cliché, but I don't believe that. It just sounded like an awesome idea."
The tradition of these community weddings began in 1988, when the founders of the store, Fred and Donna Halpern decided to use the store as the venue to renew their vows from their marriage 30 years earlier on Valentine's Day.
"Fred and his wife renewed their vows at the store and invited other couples to join in and renew their vows as well," Paul Lucas, the store's operations manager said. "Then, they took on new weddings."

Every year since, the number of couples saying their "I do's" at Albert's have grown to fill an entire day. Usually, the store hosts up to 25 weddings that day, with renewals interspersed. The day begins at 11 a.m. and every 15 to 20 minutes a short, dignified ceremony is held. There are two judges to lead the service and officiate as each couple repeats their vows and take their first kiss as husband and wife.
Natalie Mora, the E-Commerce Specialist of Albert's, helps redesign the store into a wedding-day decorated chapel. Flowers, ribbons, and silks adorn the walls and display cases. The brides walk down the aisle in a white gown or in a dress of their choice, as friends and family watch the ceremony.
"Guests are more than welcome," Lucas said. "We usually have seating for 40 to 60 people."
Once the vows are promised, the store employees pass out cake slices, toast with champagne, and rejoice with cocktails. The amenities of food, lighting, flowers, music, and more are all provided by local stores.
The flowers and decorated backdrop display are donated by Monarch Florist of Schererville and the cakes are baked fresh and donated by Ultra Foods of Highland. The videographer is Dave Ervin of Ervin Video Services in Schererville and the photographer, Bernie Zemen from Timeless Images Photography in highland, who volunteer every year to capture the special day, Mora said. The ceremonies will also be presented on Facebook Live for those who cannot make it to the store.
Other community businesses pitch in to support the store's tradition. This year, Eco Chic Boutique of Dyer is offering 10 percent off wedding gowns for those getting married at Albert's.
The Albert's weddings began as a simple, pleasurable way to renew one's love for his or her spouse. Now, the day has truly become a tradition in the Schererville community and for the staff who are witnesses to one of the most important days of these couples' lives.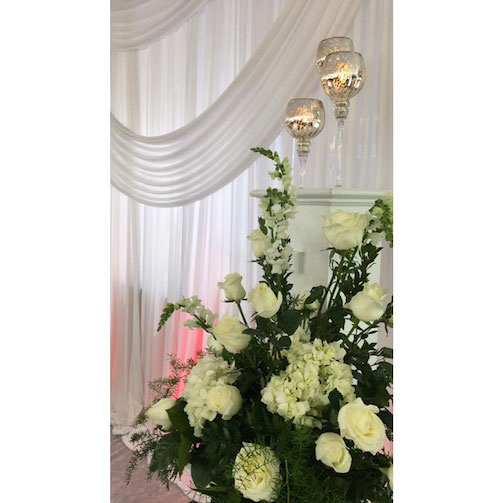 "It's exciting to hear about people's stories and see them here," Christine Martinez, the marketing coordinator and media specialist said. When requesting the opportunity for a wedding at the store a majority of couples send in a story about how they met and what led them to desiring an Albert's store wedding. "There are so many different stories and it is really exciting because, overall, we get to celebrate good things here at Albert's. These weddings tie everything we do together into one day."
Albert's weddings give any couple, of any circumstance, the ability to have the perfect wedding for free, without any disturbance or problems.
"They are just so thankful and appreciative," Mora said. "You know, things happen in their lives and maybe they are not able to get their wedding, so this is a perfect opportunity for them to come in and have their dream wedding here in the store."
Couples are not required to purchase a ring at the store, all they need is a Lake County marriage license ready and a smile on their face when they prepare for their "I Do" moment.
Even those not getting married are grateful, Lucas added. The friends, the family, the previously wedded couples who attend every year just to watch because they enjoy this Valentine's Day tradition so much: all are thankful for the opportunity to have the wedding of their dreams.
For Cullum and Vasquez, the wedding at Albert's was a way to skip over the planning and waiting time, and instead, lengthen the time spent as husband and wife. Though nervous, the two are ready for the holiday.
"I'm nervous and excited," Vasquez said. "We had set a date for October, but knowing the sacrifices he made for me and the bond that we share, we want to make it last longer."
Click here to view this article on valpolife.com