Harvested crystal is precious stone for Schererville boy
February 17th, 2015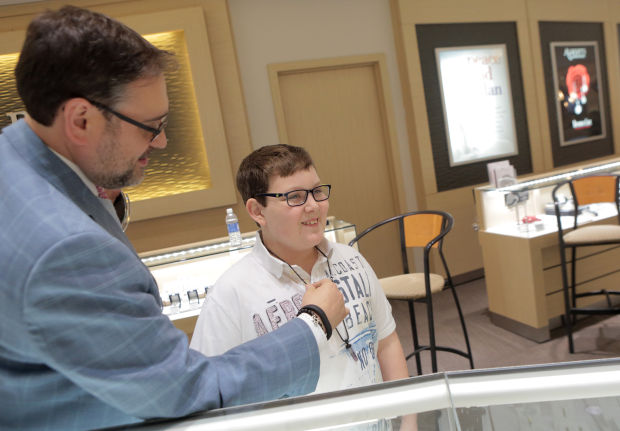 February 17, 2015 8:00 pm '€¢ Vanessa Renderman
SCHERERVILLE | An amethyst geode with a story as multifaceted as the crystals it contained returned to a local jewelry store with a new look.
A purple and white piece harvested from the stone is now smooth and polished and hangs on a black chain as a necklace.
"Oh my gosh!" exclaimed 12-year-old Josef "Joey" Rinaldi when he saw the finished product Tuesday at Albert's Diamond Jewelers, 711 Main St.
The Schererville boy last saw the stone in December, when he and his father, Bill Rinaldi, visited Albert's.
Joey's mother, Janet Glugla, died of a heart attack unexpectedly Dec. 17, a few weeks after she turned 48. Joey wanted to get out of the house and get his mind off things, so he and his father went Christmas shopping, which included a stop at Albert's.
At the store, Joey turned away from the counter and started crying. Rinaldi, Glugla's ex-husband, explained to a clerk that Joey's mother had died that day. The boy was holding some rocks, one of which contained amethyst crystals.
Joey, a sixth-grader at Grimmer Middle School in Schererville, said his mother bought him the rock a few years ago.
"It kinda meant something to me," he said. "It was supposed to have a special power. Like, if you were scared or sad, if you hold it, it would kind of cheer you up and bring your spirits up a little bit. One time, there was a tornado that we got stuck in ... as soon as I got home, we built a fort and I ran and grabbed my stone and I held it for the rest of the night."
The clerk called over shop manager Leroy Boaden, who said he would contact a New York lapidary to see if they could harvest and shape a crystal out of the stone. Rinaldi said he agreed to a fair price for the work.
When Rinaldi returned to the shop to discuss the stone's setting, he was told there would be no charge for the necklace.
"You have two generations of customers for life," Rinaldi replied.
Everything came together organically, he said.
"Joey happened to be holding the rock in his hands," he said.
Josh Halpern, president of Albert's, clasped the necklace around Joey on Tuesday.
"He (Rinaldi) had a vision for something, and I said, 'Let me take care of it,'" Halpern said. "We celebrate milestones in people's lives — happy occasions, sad occasions."
Along with the necklace, the store returned the pieces of rock that were left over. Joey said he will wear the necklace often.
"I'm not sure if I'm going to be wearing it to school, because I don't want anything to happen to it, but I will be on special occasions," he said.

Article Link:
http://www.nwitimes.com/news/harvested-crystal-is-precious-stone-for-schererville-boy/article_59e42315-4bdd-5e02-a532-31d744097be1.html