Albert's Presents $220K Check to National MS Society
December 21st, 2017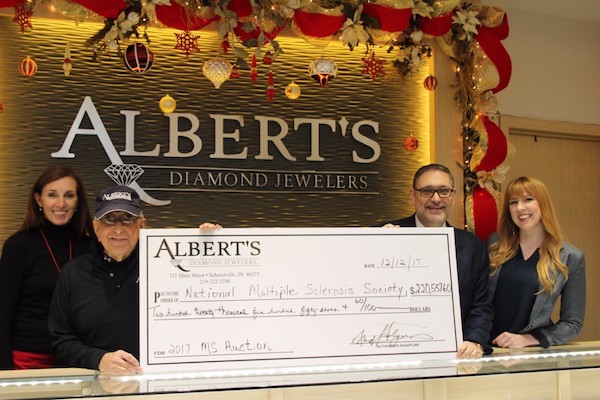 Written by: Angela Abina
Albert's Diamond Jewelers presented a $220, 557.60 check to the National MS Society this Tuesday morning in Schererville as a donation to support its mission to end multiple sclerosis. Father and son store owners of Albert's, Frederick and Joshua Halpert, have been choosing to fundraise for the MS Society at their Annual MS Auction for 15 years now.
Last year, Albert's was honored at the Society's national conference for meeting its fundraising threshold of $1 million and has further exceeded that threshold this year. Director of Individual Giving for the National MS Society Laura Milewski and Executive Director of the Indiana Chapter Beverley Stafford were more than grateful to accept the donated check on behalf of the Society, understanding the immensity of its impact.
"We can't do the work that we do to end MS, restore lost-function individuals, and provide programs and services without contributions like this, so it means a lot to us. The Society really depends on those funds," Milewski explained.
Donations to the Society, like Albert's, help push the MS movement forward both in terms of finding new treatment options, and figuring out the cause of MS to help end it and create potential future treatments for restoring those individuals who have lost function from the disease.
With all the success of the annual gala fundraisers in the past, Albert's and the MS Society plan to continue the relationship they've formed since the very first donation.
"It's been fantastic. It's a huge partnership and we're very honored that they thought of us to contribute the money and make such a substantial impact. The cause and mission are close to their hearts and they're very passionate about it," Milewski said of the last 15 years.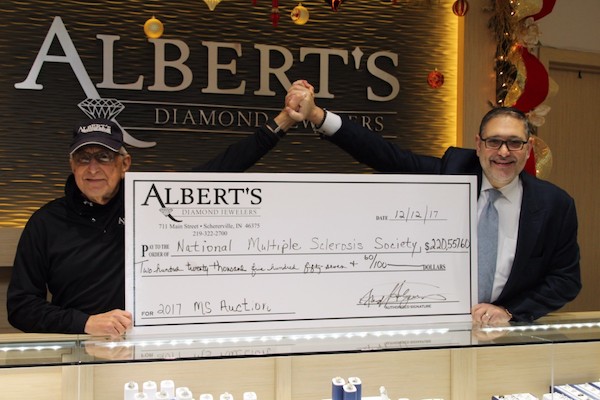 Although Albert's has been donating to charities since owner and Board President Joshua Halpern can remember, the MS Society is particularly meaningful to him and his dad, Frederick.
"Ever since I was a kid, my father was always doing stuff for charities, especially around the holidays. We always had a day where we did something, whether it was for a Boys and Girls Club or a charity for cancer," said Joshua. He later added, "We exist to serve others. My dad always said, '€˜Make money and give it away.'"
When Joshua and Frederick received the news about Joshua's mother developing MS, the MS Society became one of their charities of choice, eventually becoming their central focus as time went on. For Frederick, fundraising for MS was something that just happened out of his compassion for his beloved wife.
"It's just the natural progression of what you do when you see one of your loved ones devastated by this terrible disease. It's heartbreaking to see and Josh, his sister, and I have dedicated our lives to try and help find a cure," Frederick remarked.
Funds raised by Albert's will be designated to research for the MS Society, split between different restoring programs for individuals who have lost functions to MS.
Click here to view this article on valpolife.com