Terrific Wedding Season Trends for 2018!
April 18th, 2018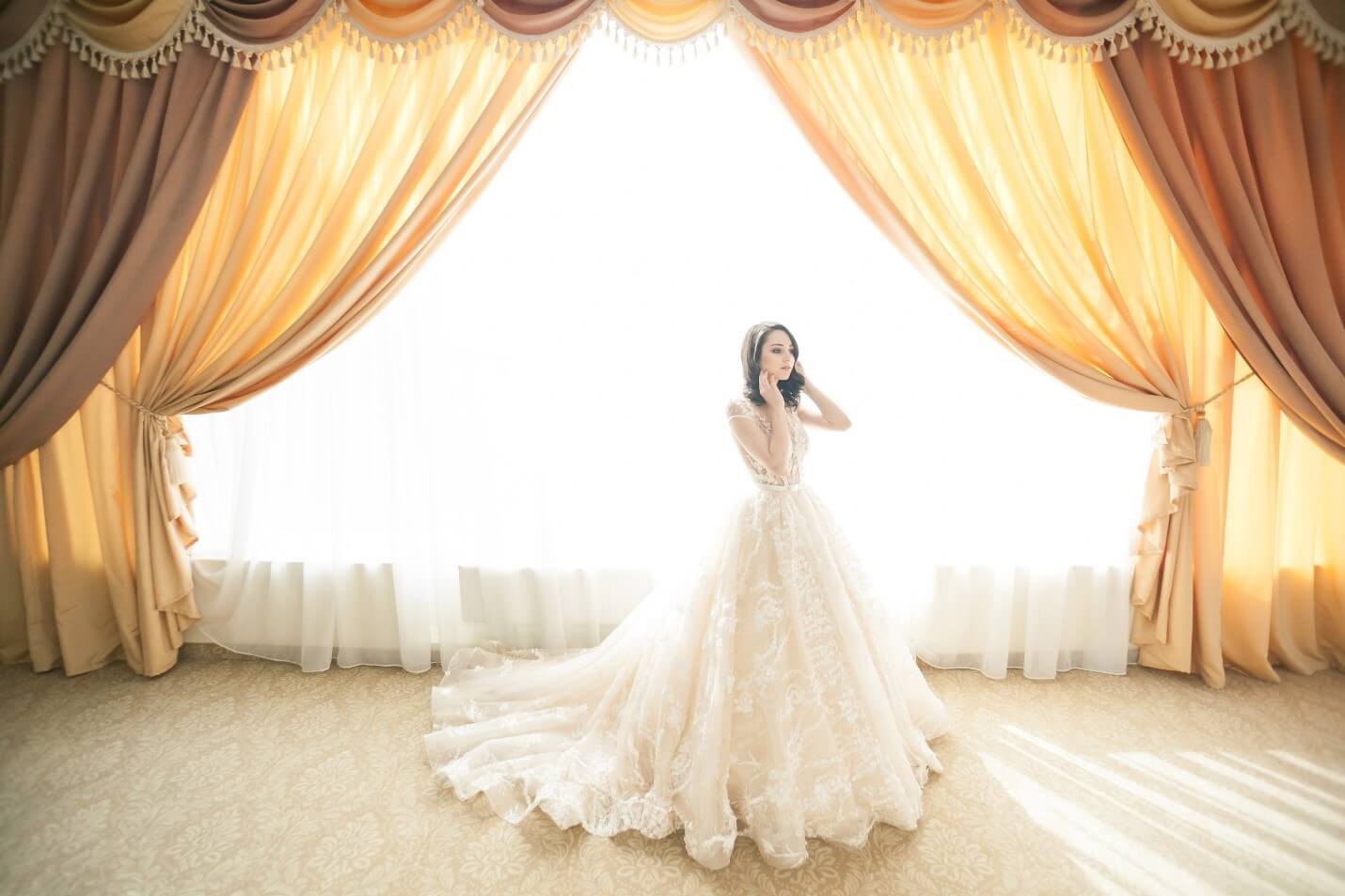 At Albert's Diamond Jewelers we are always excited to bring the hottest and most cutting-edge bridal jewelry trends to our Chicago area brides-to-be! Straight from the runways, these wedding jewelry looks are extremely in style and ready to bring a chic contemporary charm to any bride's dream day.
So, just in time for spring/summer wedding season, here are a few bridal jewelry trends, available now in the Schererville and Merrillville showrooms of Albert's Diamond Jewelers, that we're sure you're going to fall absolutely in love with this year.
Trend #1: Nature-Inspired Motifs
A wonderful and whimsical way to celebrate your life as a newlywed, one major wedding jewelry trend is an increased focus on brightly detailed nature-inspired prints and embellishments. This season we're seeing more and more brides choosing to buck tradition and wear gowns that are made with subtle floral designs that are every bit as enchanting as they are classically beautiful.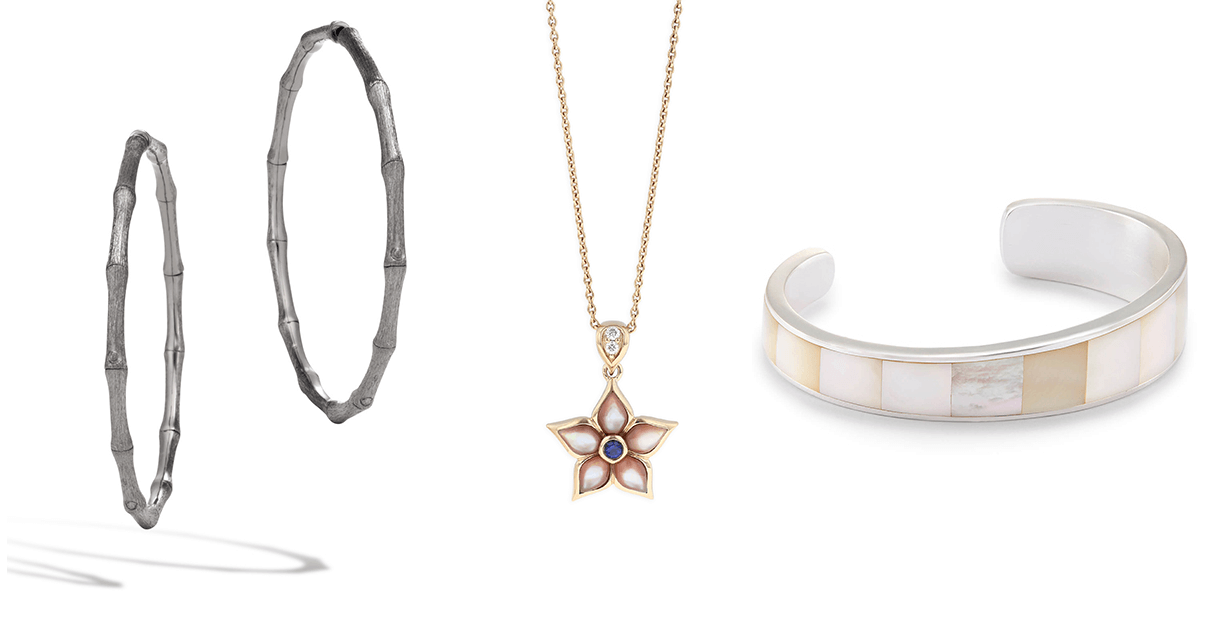 To best complement to this organic bridal look, we suggest picking a piece of jewelry, such as those pictured above, which feature bold shapes, ethereal lines, and coolly-colored materials. Seen here from John Hardy, Kabana, and Kendra Scott, these hoop earrings, pendant necklace, and bangle bracelet are crafted of sensual materials such as mother of pearl, sterling silver, and sapphires and are understated enough to not pull focus from what is sure to be a breathtaking bridal ensemble.
Trend #2: Chandelier Style Earrings
While in style last year, this year we're expecting to see even more brides wearing big, bright, and elegant chandelier style earrings. Classically sophisticated, chandelier earrings look fabulous with a variety of gown styles, giving brides-to-be the opportunity to gorgeously display their stylistic individuality neatly and noticeably.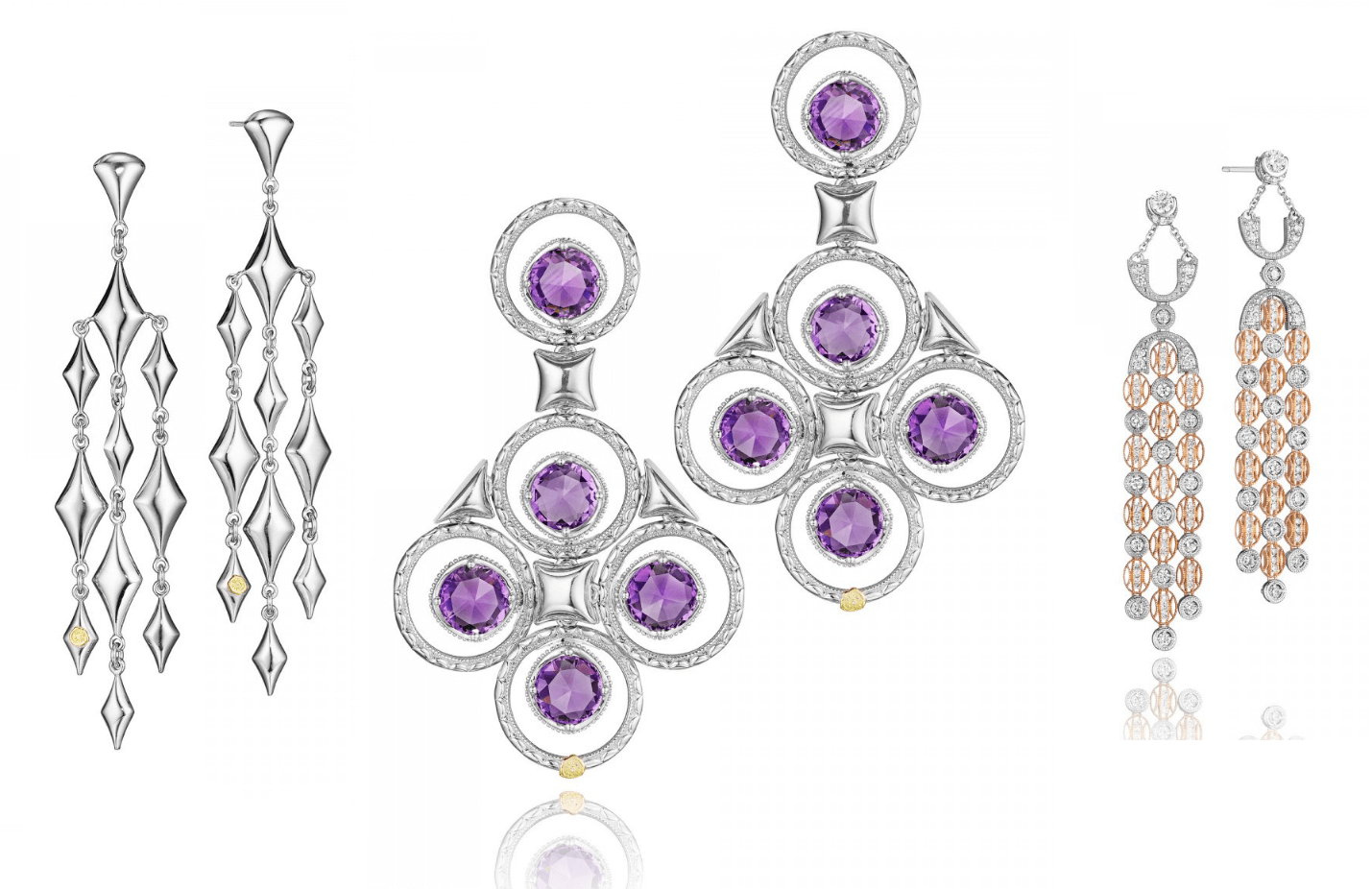 Amongst the beautiful assortment of chandelier style earrings available now in our wonderful Schererville and Merrillville, Indiana showrooms, no designer is more requested than TACORI. Entirely hand-crafted in Southern California, the chandelier earrings of TACORI are well known for their exquisite diamond and precious metal detailing. Seen above from TACORI's legendary City Lights, Lilac Blossoms, and Vault collections, these earrings are made with stainless silver and 18-karat white gold, as well as feature some of the most blinding white diamonds and purple-colored amethysts that any bride could ever ask for.
Trend #3: Black Accents
While colored wedding dresses are nothing new at this point, one particularly exciting bridal trend for 2018 is the prevalence of outfits that feature black accents and detailing. From simple black trimming to unforgettable all-black ensembles, the addition of black to your wedding outfit is a great way to break from bridal tradition without inciting a sartorial riot.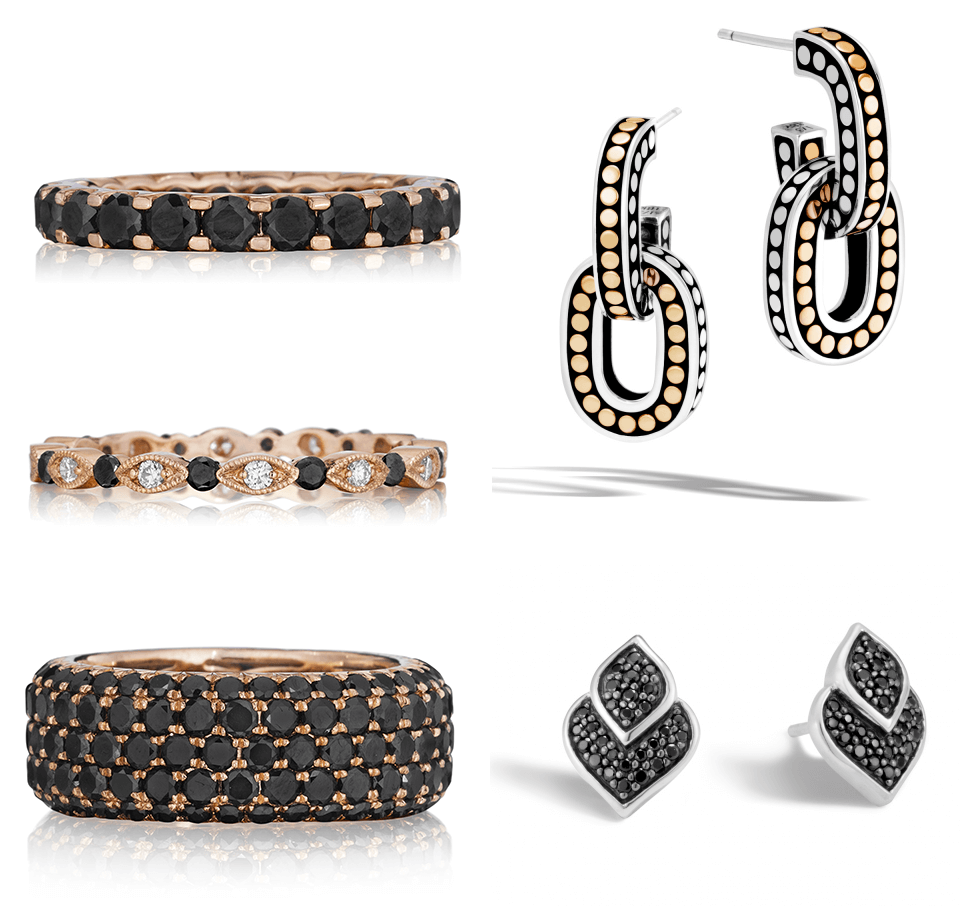 From Henri Daussi and John Hardy, these bold black picks bring a truly unforgettable edge to your traditional bridal ensemble. Firstly, pictured above on the right, these earrings are from the Dot and Legends collections by John Hardy, are covered in black gemstones and are wonderfully made through traditional Balinese design methods. Next, on the left, are three gorgeous black diamond Henri Daussi that are great for celebrating your one-of-a-kind love for a lifetime.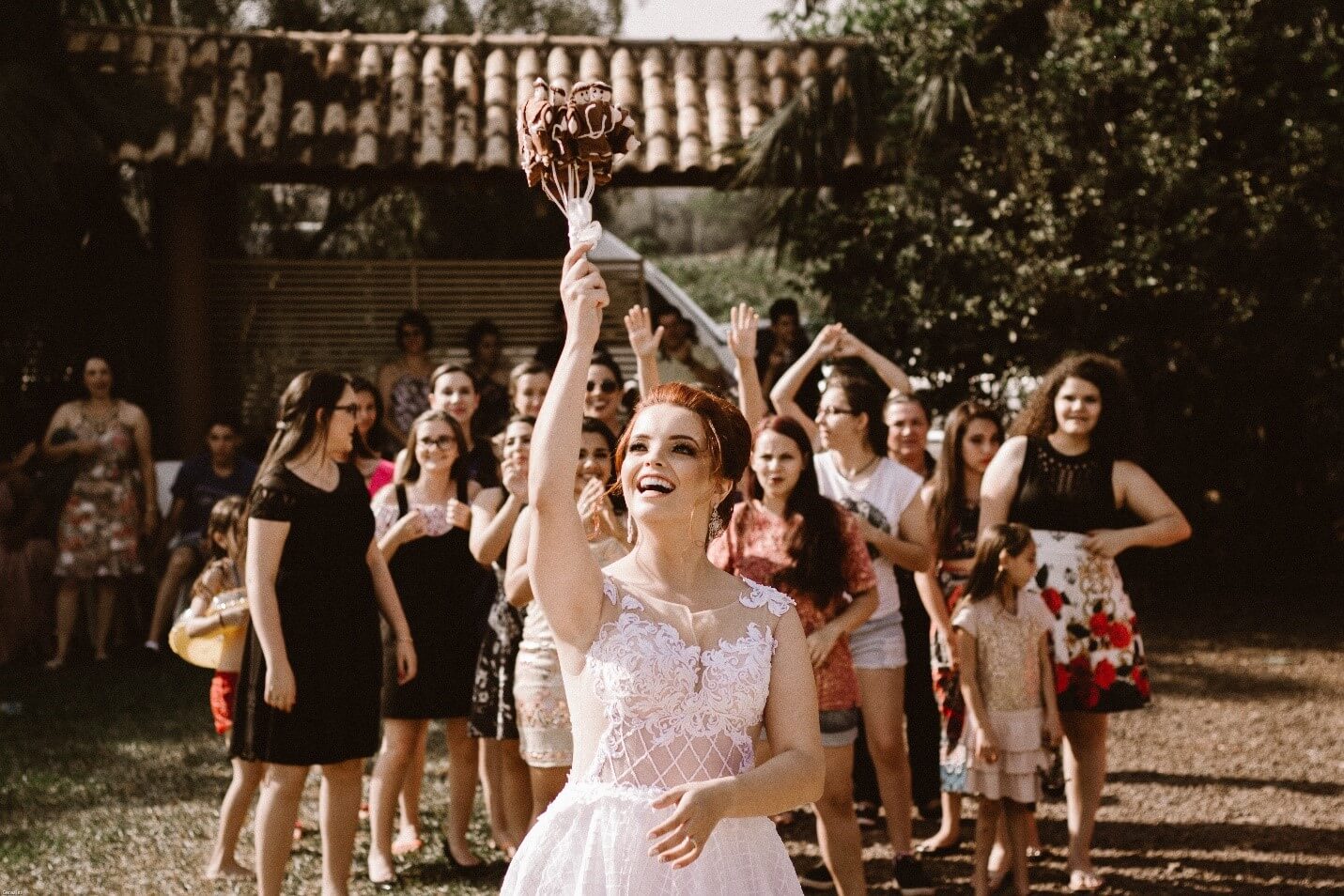 Visit Albert's Diamond Jewelers for More 2018 Bridal Trends!
Located in Schererville and Merrillville, Indiana, Albert's Diamond Jewelers has been helping brides like yourself with finding the perfect designer-made wedding jewelry for more than 111 years. Family-owned and operated, the wedding experts at Albert's Diamond Jewelers can help you with finding the engagement ring, wedding band, and other fine jewelry pieces of your wildest matrimonial dreams.
To learn more about the designer-made wedding jewelry available now at Albert's Diamond Jewelers, please call 1-800-946-1491, explore our selection anytime at albertsjewelers.com, and make sure to visit our Schererville or Merrillville, Indiana showrooms today!