Sultry Blue Topaz Birthstone Jewelry & Bright and Perfect for Autumn
October 24th, 2018
You don't have to be a Scorpio to feel the appeal of topaz birthstone jewelry; like seasonal fruit, its intoxicating allure is enough to have anybody's nose pressed up to the glass around this time of year.
We're all familiar with the warm, amber variety that is most common, but what about alternative hues? We specialize in topaz birthstone jewelry sporting shades of cool blue '€" read on to see what you've been missing out on.
Fabulous Necklaces and Bracelets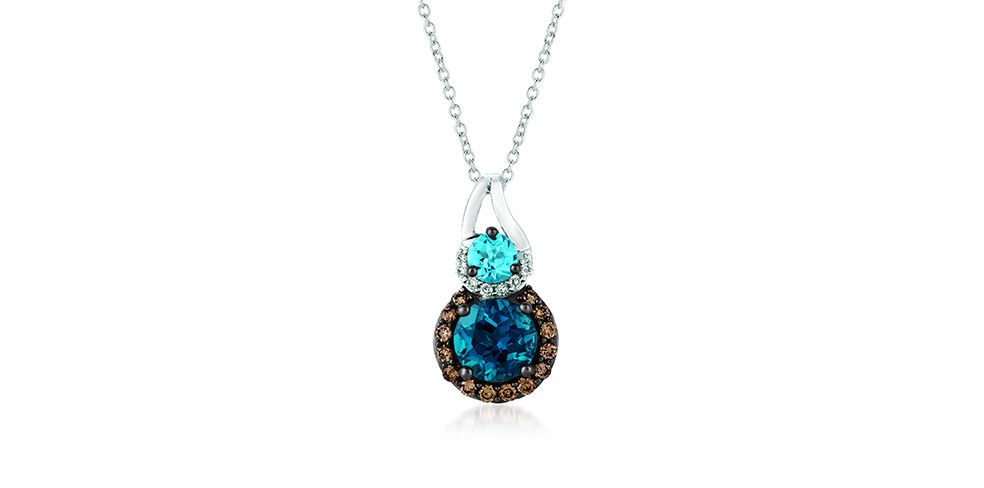 Fans of Le Vian will be pleased to know that they can get their fix this year with their help. They offer a range of topaz-centric pendants in strawberry and vanilla gold featuring stones in several vibrant hues.
Along with these, they also produce a menagerie of matching topaz bracelets to pair along with them. In our humble opinions, the more, the merrier.
Topaz Birthstone Jewelry From Our Own Collection

Getting glam doesn't always mean straying far from home '€" our exclusive line of topaz selects are sure to please no matter what your personal style happens to be. Our topaz fashion ring is bold, regal, and features a halo of petite diamonds surrounding the main attraction.
Even more adventurous are our white topaz stud earrings, positively dazzling and set with 14k white gold. While not blue per se, their colorless cool is the perfect way to welcome the beginning of fall in style and on point.
We couldn't end this article without mentioning our favorite topaz pendant '€" pictured below is one of our all-time best sellers featuring a London blue topaz stone, an excellent choice for anybody in need of that perfect autumn statement necklace.
You Can Count on Us
Returning customers can attest: as one of the most established brick-and-mortar family-owned jewelry companies around, you're guaranteed to find something beautiful and affordable this season with our assistance.
Backed by over a century of experience in the industry, our team of experts will be able to guide you to exactly what you need swiftly and within your budget. In addition to an extensive catalogue and some of the most competitive prices around, we offer flexible financing and layaway options in addition to a 30-day return policy if you're not completely satisfied with your purchase.
Whether you're coming from Schererville, Munster, or Chicago itself, we're here to help you find the right piece of topaz birthstone jewelry for your fall collection.