Designer Spotlight: The Inimitable Magic of Verragio Engagement Rings
February 18th, 2019
In the world of jewelry, there's often more than meets the eye. It's dangerously easy to see something beautiful and forget that every piece has an entire legacy behind it. Verragio is no exception to this.
The Albert's Diamond Jewelers team is at it again. Our designer spotlight feature is meant to celebrate the geniuses responsible for the fabulous jewelry we love. This time, we're going to focus on one of the most popular designers in our catalogue: Verragio,
Verragio: Classic Style Meets Modern Elegance
Barry Verragio, the mastermind at the heart of the brand, has been in the jewelry industry for well over twenty-five years. From his humble beginnings as a student and apprentice in New York City, he developed his own proprietary style of setting stones, creating a name for himself and carving a niche that could be filled by no other. The rest, as they say, is history.
Anybody familiar with Verragio will know that their engagement rings are unlike any other. Specializing in bridal jewelry that spares no expense, the extravagant aesthetic they're known for is characterized by attributes such as intricate milgrain metalwork, dual-toned bands, and, of course, plenty of inlaid diamonds.
Aside from their excellent wares, they also offer their patrons a multitude of services. Their MIY (Make It Yours) feature allows you to customize your chosen engagement ring to suit your own personal style.
They do not sell engagement rings directly to the public '€" instead, they rely on a fleet of authorized retailers to connect clients to their products. Albert's Diamond Jewelers just so happens to be one of these trusted sources.
A Few of Our Most-Loved Verragio Engagement Rings
With so many worthy contenders, narrowing the list down to a scant few selections would have been a bit of a challenge. Instead, we're going to share some of our favorite Verragio engagement ring collections and let you decide for yourself what fits your style best.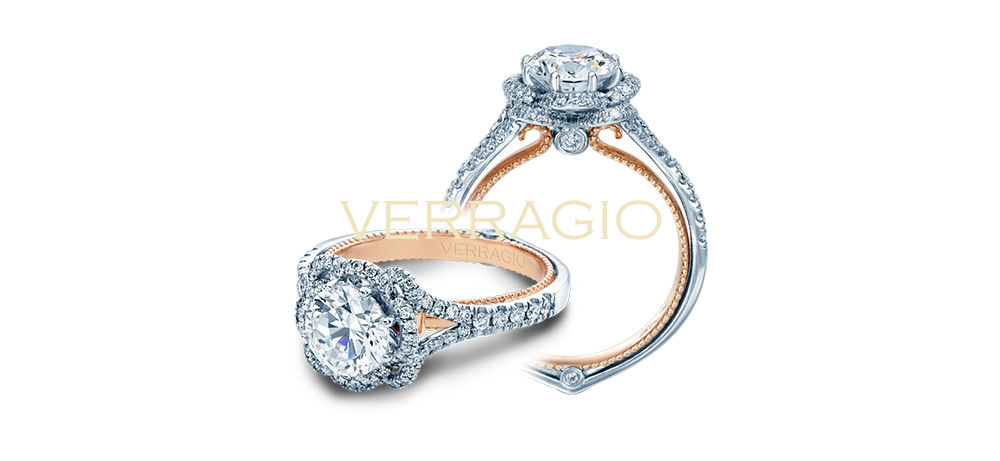 The Verragio Couture collection is probably the one many think of when the brand comes to mind. Prominently featured are their iconic dual-toned bands, the inner ring of 14k rose gold complementing the outer white gold portion luxuriously.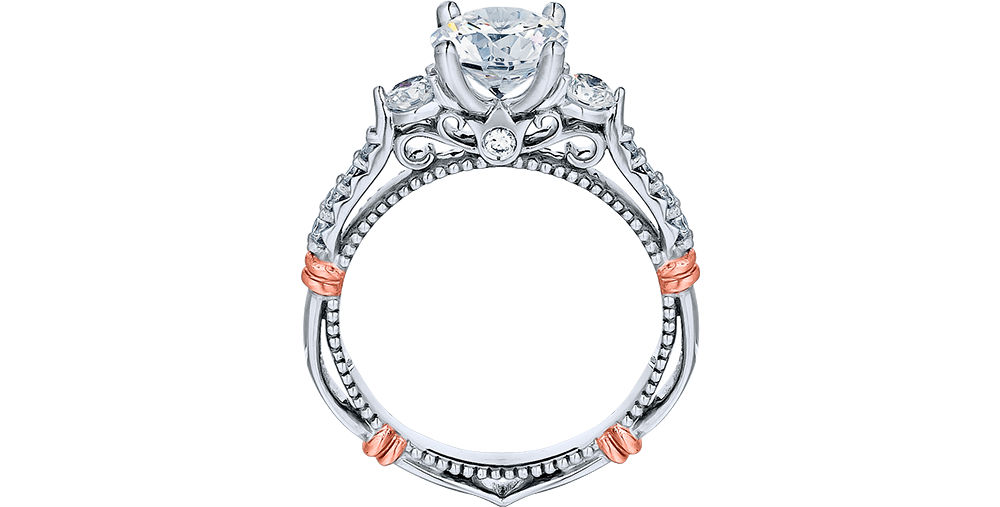 For the Francophile in us all, their Parisian line of engagement rings is not one to be ignored. This collection also rocks the dual-tone aesthetic, but forgoes an inner band for fabulously-subtle ties in your choice of precious metal.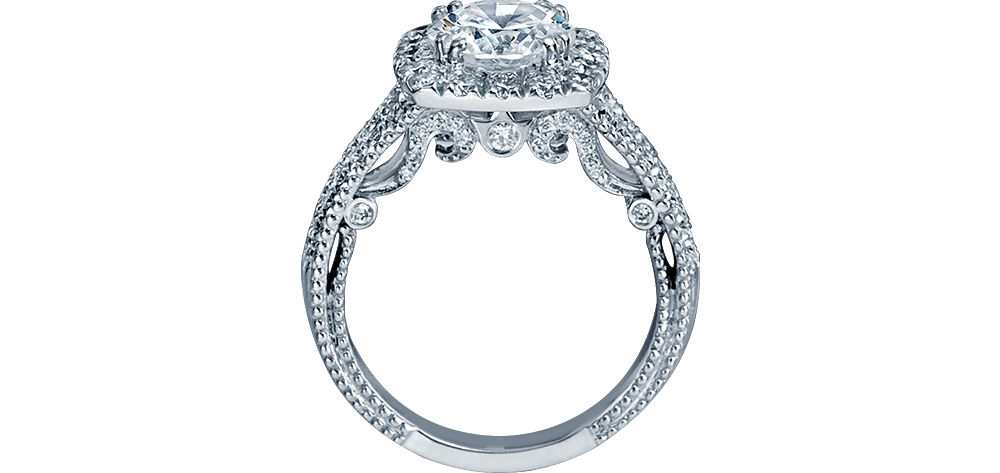 The ever-extravagant Insignia collection features engagement rings opulent enough for even the most die-hard diamond aficionado.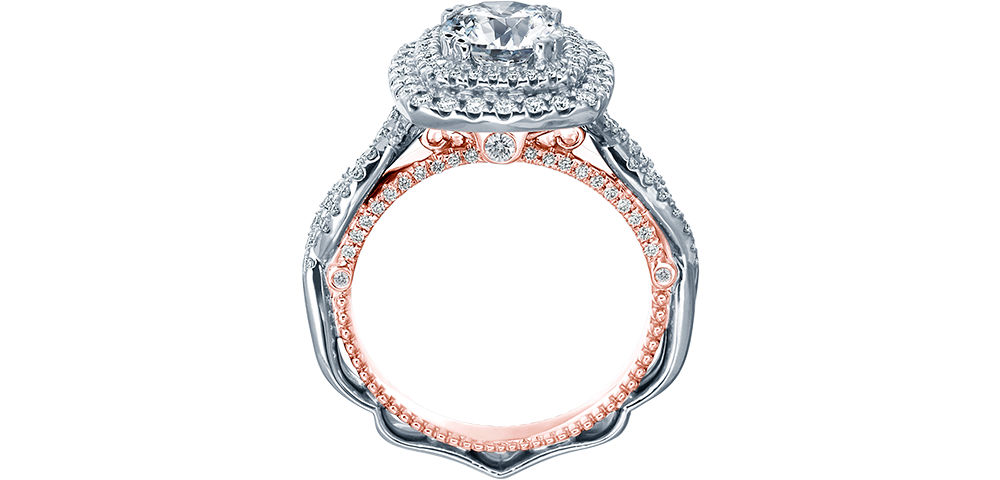 For something slightly more contemporary, the Venetians by Verragio will be exactly what you're looking for.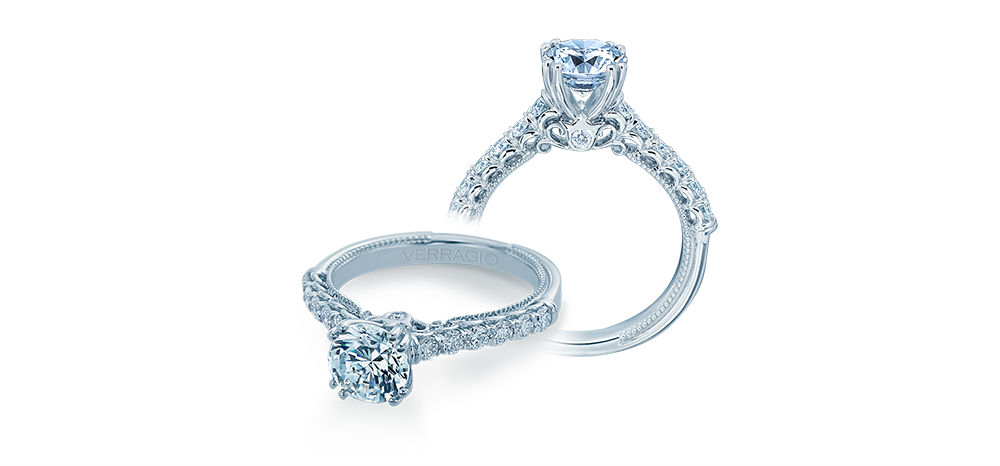 Last (but certainly not least) comes the Verragio Renaissance collection. Purists will go absolutely gaga over these engagement rings.
Proclaim Your Undying Devotion with a Little Help From Albert's Diamond Jewelers
Our expert consultants have helped countless men and women find the perfect engagement ring for their partners. If you're in love and happen to be located in Schererville or Merrillville, we cordially invite you to stop by one of our shops. Our unbeatable price guarantee and flexible financing options for those with approved credit allow you to shop worry-free and choose exactly what you need to pop the question in 2019.

To book an appointment, visit us online. Our entire catalogue of Verragio and over forty other brand name luxury designers is available for you to peruse any time.