"I Do" tradition at Albert's celebrates life, love, and happiness
February 14th, 2019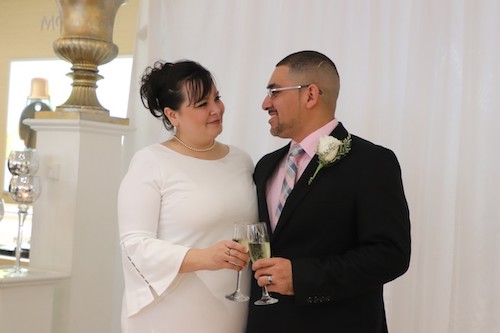 Article Written By: Julia Demma
Out of the crowd of newly-weds at Albert's Diamonds Jewelers on Thursday, Pam and Dale Wagner sat admiring the couples who walked up and down the familiar aisle they once shared themselves.
"It's our wedding anniversary. Seven years ago today we got married right here," Pam Wagner said with her husband sitting beside her. "Ever since, we've made it a point to come back here every year. It's a tradition for us," Dale Wagner said.
This Valentine's Day, Albert's Diamonds Jewelers held their 21st annual "I Do" event, where couples from the region got married, renewed vows, and shared their special day with friends and family.
"They set it up so perfectly. It's a great deal. There isn't any planning, and that can drive a bride crazy," Pam Wagner said. "This is our second marriage, and we didn't want to be too elaborate. It's just perfect."
Nineteen couples were set to walk down the aisle throughout the day, either to wed or renew vows. The event originally bloomed from Albert's East Chicago location where Fred and Donna Halpern, owner Josh Halpern's parents, started the Region-famous tradition.
"My parents got married on Valentine's Day 51 years ago, and on their 30th anniversary, they renewed their vows here in the store. Six other couples decided to renew their vows on this day 30 years ago as well, and the event has been growing ever since," Halpern said.
Each couple who chose to participate walked down the aisle to beautiful music, and were gifted wedding cakes, champagne, and flowers on their special day. All aspects that came together to make the day extraordinary were donated by sponsors in the community, including Strack & Van Til, and Monarch Florist Gifts and Events.
Magistrates Jeffrey Miller and Matthew Gruett, Judge Amy Jorgensen, Videographer Dave Ervin and Photographer Bernie Zemen all donated their time to help make the day memorable. Participants paid nothing, unless they chose to purchase the photos taken during their ceremony.
"Not every member of the community can afford a big wedding, so we try our best to offer them a special ceremony to make their day one they will remember always," said Natalie Mora, E-commerce specialist at Albert's.
Every 20 minutes a special ceremony took place from 11 a.m. - 5 p.m.. Most couples got the idea to be married at Albert's while shopping for engagement rings.
"We were here looking at wedding rings and got the idea to get married at Albert's because they're like family. They've always taken care of us like we're one of their own. I can't really envision us getting married anywhere else," said newlywed Susan Hale.
Halpern expressed that this tradition is what Albert's is about at its core.
"I'm flattered and touched that people want to come here and spend their special day with us. We're all about love, romance and emotions, and the fact that we get to witness this first-hand from some of our customers is so special," Halpern said.
"Customers remember the time they spend with us forever and we appreciate and acknowledge this. For us, it's all about making a connection with our customers hands-on and not just being transactional. Albert's is family."
Click here to view this article on NWIndianaLife.com/