Albert's MS Auction funds research for a cure
October 1st, 2017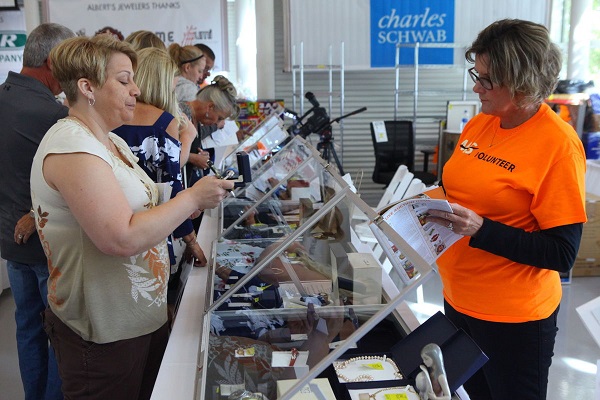 Written by: NWI Times - Joseph S. Pete
When Albert's Diamond Jewelers had its first fundraiser for multiple sclerosis research 14 years ago, it was held in the jewelry store at Main Street and Indianapolis Boulevard in Schererville.
Jewelry was the only thing being auctioned off then, and it raised about $18,000 in its first year, Albert's Diamond Jewelers President Josh Halpern said.
This year the event raised more than $240,000.
Now the annual Albert's MS Auction packs the 6,500-square-foot W.F. Wellman Exhibit Hall in the Indiana Welcome Center in Hammond, drawing hundreds of bidders every year. More than 300 businesses donate items to be auctioned off, including watches, spa gift cars, signed photos of White Sox star Jose Abreu, high definition home theater systems and wheelbarrows full of wine and liquor.
"It's grown from just jewelry to tickets and experiences and vacations," Halpern said. "It's just taken a life of its own. Every year we add something new. We get creative. Every year, there's new energy from new committee members who think outside the box."
The annual fundraiser, which took place Sunday, now generates 10 times as much for finding a cure for MS.
It's personal for the Halpern family. Josh and his father Fred were motivated by Donna Halpern, Fred's wife and Josh's mother, who has battled MS for decades after she was diagnosed with the disease in her late 20s.
Multiple sclerosis is a chronic, often disabling disease that disrupts the central nervous system. The National Multiple Sclerosis Society estimates the progressive, debilitating disease afflicts about 2.3 million people across the world.
The Albert's MS Auction has risen more than $1 million for multiple sclerosis research over the last 14 years, getting it inducted into the National MS Society's Circle of Distinction.
This year, Albert's auctioned off 220 silent items and 170 live items before a crowd of 400 to 500 people Sunday afternoon. Sponsors, including the Times Media Co., contributed $42,000 to stage the event.
"We thankful with whatever we get today," Josh Halpern said. "It's more than we had yesterday. There's a lot of things happening around the world today, so I don't know what people's direction is, if it's Florida, Texas or Puerto Rico. There's only so much funds people can donate to certain things. I'm thankful for whatever we get today. Whatever we get today is a win."
In 2016, the jewelry store in Schererville raised more than $180,000 toward a cure.
"We've got some major momentum," Josh Halpern said. "For a local charity, getting that much money is amazing. Whatever we collect, every dollar we collect, goes toward research. We specifically asked for our donation to be carved out, earmarked for research, because we want to find a cure for MS."
Click here to view this article on nwitimes.com